The 20111 Lexus LS Hybrid boasts of a luxurious interior plus a list of plush standard features to boot. However, if one is looking for some sporty handling, this car may not be up to the task. The car is simply not into the fast paced car arena but it does excel in its own "comfortable ride" class.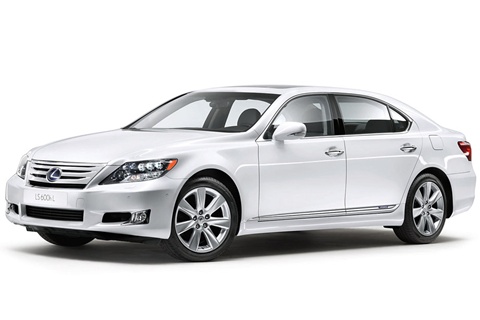 General Info

| | |
| --- | --- |
| Vehicle Type: Luxury Hybrid Sedan | Base Price: $112,250.00 |
| Fuel Tank Capacity: 22.8 gallons (84 liters) | Miles Per Gallon: 19 city / 23 hwy |
Dimensions

| | |
| --- | --- |
| Length: 203.9 in. (518 cm) | Width: 73.8 in. (187 cm) |
| Height: 58.3 in. (148 cm) | Wheel Base: 121.7 in. (309 cm) |
| Curb Weight: 5203 lbs (2360 kg) | Ground Clearance: 5.3 in. (13.4 cm) |
| Luggage Capacity: 10.1 cu ft | Maximum Seating: 5 people |
Performance

| | |
| --- | --- |
| Engine: 32-valve DOHC | Displacement: 5.0-liter |
| Horsepower: 438 HP | Max RPM: 6400 RPM |
| Torque: 385 lb-ft @ 4000 rpm | Transmission: ECVT-Electronic Continuously Variable Transmission |
| 0-60 mph: 5.5 seconds | Maximum Speed: 130 mph (209 km/h) |
Performance
Currently there have been more and more hybrids that are making its way into the super luxury car class however, the Lexus LS Hybrid was able to arrive first on the spot. Truth to tell, this Lexus may not be as 100% environmentally sound compare to the Prius, yet the Lexus LS Hybrid does make for an outstanding alternative to some of the cars in the same class as it brings some slight fuel economy and greater power advantage. This hybrid is powered by 5.0-liter V8 engine producing 438 horsepower.
The Lexus LS Hybrid comes with just a single trim level. The car has the same platform as the Lexus LS. The Hybrid does come with a heftier price tag compared to the non-hybrid type. To cover for this discrepancy however, are the superb standard features of the Hybrid which includes an all wheel drive one-button start up, Bluetooth and iPod connectivity, climate control, parking sensors w/ backup camera, power door closers, ventilated/heated front seats and steering wheel, and a surround sound stereo.
The Competition
There are actually cars that could rival the features of the Lexus Hybrid yet come at a lower cost. For instance, the BMW ActiveHybrid 7 (MSRP $102,300; 17 city / 24 hwy) is a good alternative to the Lexus Hybrid. The good thing about the BMW is that it can match the Lexus Hybrid when it comes to fuel economy This BMW's class interior however, is less luxurious than the Lexus Hybrid but it has great acceleration and excellent sport sedan handling. The BMW's firmer suspension however makes it difficult for the car to be at par with the Lexus Hybrid's silent and comfortable interiors while on the go.
Going back to fuel economy however, if this is one of your primary gauge in choosing the vehicle, then there is still the Mercedes-Benz S-Class (MSRP $91,000; 19 city / 25 hwy) and the 2012 Porsche Panamera Hybrid (MSRP $95,000) to choose from. Both cars just have an estimate of a yearly fuel price of $2,877 which is much lower than the Lexus Hybrid's and the BMW's 7-series.

The Mercedes S-Class Hybrid is also priced lower than the Lexus Hybrid but it is a good match to the Lexus model when it comes to luxury features yet can't compete with the Lexus when we speak of power. However, if it is sporty handling, fuel efficiency & a cheaper price tag all-in-one that you are seeking, then it is the Porsche Panamera that you might be looking for. This model however isn't as quick compared to the S-class or the Lexus Hybrid.
Pros
The powerful engine and posh interiors
Amazing surround sound stereo
Cleverly designed intuitive electronics to enhance safety
Impressive warranties since it comes with a 4-year 50,00 mile limited warranty plus even longer warranties for its power train and other hybrid parts.
Cons
Doesn't have the sports sedan handling that can be found in other cars of the same class
Delivers just a mediocre fuel economy, nothing outstanding.
Body design is too conservative
Has not undergone crash testing from authorized organization; limited crash test data that is available for scrutiny
Pricier than other brands of the same class
Overall Rating


80 out of 100
What others say:
"The LS 600h L is the flagship model for the Lexus model line, and it also serves as a halo vehicle of sorts for hybrid believers who want to be seen inside a very green yet very luxurious vehicle."Car Connection
"Exquisite craftsmanship inside and out; supremely quiet and comfortable cabin; super ultralow-emissions vehicle (SULEV) rating."Edmunds