The 2010 Lexus SC is ranked seven out of eight in the Super Luxury Sports Cars division. This ranking was based on the analysis of forty seven different reviews of the car. Car critics say that the Lexus SC 430 is an outstanding grand tourer. However, rivals still are able to outdo it when it comes to ranking of sporty performance. Still, the Lexus SC 430 maintains to be a recommended "good buy" for the automobile class it belongs to.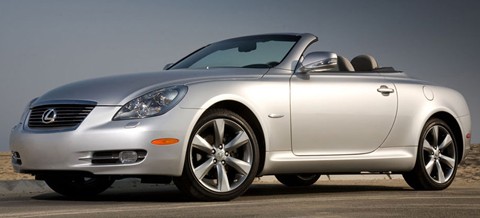 Specifications
General Info

| | |
| --- | --- |
| Vehicle Type: Sports Car | Est. Market Price: $56,226.00 |
| Fuel Tank Capacity: 19.8 gallons (74 liters) | Miles Per Gallon: 16 city / 23 hwy |
Dimensions

| | |
| --- | --- |
| Length: 178.5 in. (453 cm) | Width: 72 in. (182.8 cm) |
| Height: 53.1 in. (134.8 cm) | Wheel Base: 103.1 in. (261 cm) |
| Curb Weight: 3840 lbs (1741 kg) | Ground Clearance: 5.6 in. (14 cm) |
| Luggage Capacity: 8.8 cu ft | Maximum Seating: 4 people |
Performance

| | |
| --- | --- |
| Engine: 32-valve DOHC V8 | Displacement: 4.3-lter |
| Horsepower: 288 HP | Max RPM: 5600 RPM |
| Torque: 317 lb-ft @ 3400 rpm | Transmission: 6-Speed Shiftable Automatic |
| 0-60 mph: 5.8 seconds | Maximum Speed: 149 mph (239 km/h) |
Performance
The Lexus SC 430 is powered by a 4.3 liter V8 dual-overhead-cam 32-valve engine. The drive train is aided by six-speed shiftable automatic transmission. The engine has a total output of 288 hp and 317 ft-lbs of torque.
Interior & Exterior
The Lexus SC 430's interior is available in three colors. For both driver and passenger, an interior air filtration system and dual climate controls ensure a comfortable ride. The dashboard is enhanced by a wood trim, while the doors and steering wheel have both wood and leather accents.
As in most Lexus vehicles, you can choose from seven colors for the exterior on SC430. Among the standard features available include: daytime and fog lighting, self-leveling headlights, and all season run-flat tires just to name a few.
Safety
The Lexus SC 430 have dual front-side mounted airbags. The body is reinforced structurally in addition crumple zones in both rear and front of the vehicle. The 4-wheel ABS braking system aids the driver avoid accidents.
Highlights
The Lexus SC 430 has changed little since its debut in 2002. However, it continues to be impressive because of its sleek exterior and long list of high technology standard interior features. It also has a build quality that is set to last for the long term. A car critic even labeled this car as an "oldie but goodie" piece of vehicle. For those who have reached a point in their life when they want and could afford a luxury convertible, then they will know what that phrase means. It is one that best describes the Lexus SC 430.
However, not everything about the car is perfect. The backseat for instance has too small a space. It is cramped and could carry limited cargo. The 2010 Lexus SC 430 is also not as performance-oriented as those other cars in its class. Those who were able to test drive the car commented that the 2010 Lexus SC 430 is better driven for a "sporty grand touring" than for an "all-out sports performance."
The SC 430 can simply be regarded as posh, pleasant and safe to drive. It even comes with a hard top convertible plus many other high technology features in the dashboard.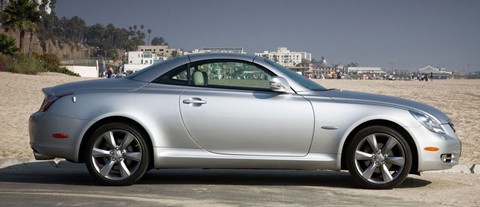 The Competition
If you are a would-be car buyer that is seeking to shop in the division of super luxury sports cars and would be willing to sacrifice sporty performance for an over-all great value, then the 2010 Lexus SC 430 is a car made just for you. Buy it then, since every other rival in its class goes for $10,000 more than the Lexus Sc 430.
However, if you are the type of driver who cannot do without the superior sports performance, then go look at the 2010 Mercedes Benz SL (EstMarketValue: $69,569; 13 city / 21 hwy) first which is a not only a powerful but also a luxurious car. The Mercedes Benz SL has 2 engine options, a 382-horsepower V8 and a 510-horespower V12. One has to keep in mind though that power does not come cheaply. The Mercedes Benz SL will set you back for almost a $100,000.
Thus, if you are not willing to spend this amount of money, go look elsewhere instead – the luxury sports car class. In this class you can find several with outstanding sports performance. There is the 2010 Porsche Boxster (EstMarketValue: $40,916; 19 city / 27 hwy) and the 2010 Mercedes-Benz SLK (EstMarketValue: $40,033; 18 city / 26 hwy). Both, however, are not as luxurious as the 2010 Lexus SC 430 or its other class rivals but both 2010 Porsche Boxster and 2010 Mercedes-Benz SLK are available in convertible hard tops.
Pros
Cool design of the power retractable hard top
Luxuriously crafted cabin with leather seats and wood trimmings
Impressive electronic upgrades
Impressive safety feature such as front, side and knee airbags for front passengers
Cons
Excellent choice for a grand tourer but not for a sports car
Shakes and rattles when driving though bumps and potholes
Limited passenger room and lack of cargo space
Reported visibility issues coming from the driver's seat
Overall Rating


63 out of 100
What others say:
"At the end of its life cycle, the SC 430 still gets our recommendation for its folding hardtop, its luxurious cabin, and its effortlessly smooth powertrain."Car Connection
"Even with the top up, the trunk holds barely enough for two on a long weekend, provided you pack carefully. The run-flat option omits the spare tire, to add a minimal 0.6 cubic feet–a poor trade for its harsher ride."Consumer Guide
" The 2010 Lexus SC 430 is getting a little dated, but its combination of a retractable hardtop, smooth ride and luxurious interior still make it a fine choice for sunny climates."Edmunds