There are only a few minivans available in the market and the 2012 Kia Sedona is one of your better choices. It has one of the most affordable base models with plenty of standard features.
It has a V6 engine, quiet cabin, excellent handling and comfortable seats. When it comes to family vehicles, it is very clear that the new Sedona is not less than ideal.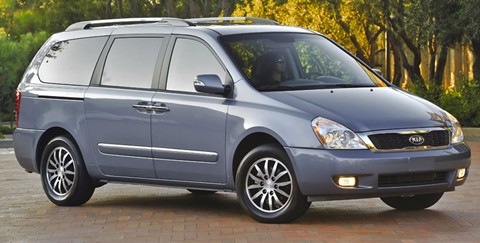 Specifications
General Info

| | |
| --- | --- |
| Vehicle Type: Minivan | Base Price: $24,900.00 |
| Fuel Tank Capacity: 19.8 gallons (50L) | MPG: 18 city / 25 hwy |
Dimensions

| | |
| --- | --- |
| Length: 202 in. (513 cm) | Wheel Base: 118.9 in. (302 cm) |
| Height: 69.3 in. (176 cm) | Width: 78.1 in. (198.3 cm) |
| Curb Weight: 4374 lbs (1984 kg) | Ground Clearance: 6.5 in. (254 cm) |
| Luggage Capacity: 32.2 cu ft | Maximum Seating: 7 people |
Performance

| | |
| --- | --- |
| Engine: 3.5L V6 DOHC | Compression Ratio: 10.6: 1 |
| Horsepower: 271 HP | Max RPM: 6300 RPM |
| Torque: 248 lb-ft @ 4500 rpm | Transmission: 6-Speed Automatic |
Available Trims & Engine

| | |
| --- | --- |
| Option:EX | MSRP: $29,190; MPG: 18 city / 25 hwy |
Engine
There is only one engine for the 2012 Kia Sedona and that is the 3.5 liter V6 engine. It delivers 271 horsepower and 248 lbs/ft of torque. It is paired with a 6-speed automatic transmission that features a manual shift mode.
For driving around town and on the highways, the Sedona definitely provides adequate power. It is not sporty, because it is a van in the first place, but car owners will surely love its excellent drivability.
Performance
The power that drives the Sedona is complemented by its excellent handling, even on curvy roads. Whether you are driving around the city or going out of town, the Sedona will definitely be appropriate to drive.
And because it is easy to maneuver, you will never have problems about small alleys and parking lots. And on top of that, the cabin stays quiet and calm.
Exterior
The exterior of the new Sedona is not elaborate. It has straightforward lines, minimal curves and subtle details that are common from minivans. It shares the same austere elegance that you often see in minivans.
From the outside, it looks spacious and comfortable which is what you will most likely get when you drive. The Sedona looks as serious as it performs.
Interior
The Sedona does not have fancy interiors. You will not call it upscale or stylish but you will nevertheless feel that its materials are just right for its price. With the comfort that it offers, you definitely would not ask for more. The vehicle is designed to seat 6 people comfortably.
If you are with children, you can even fit in seven persons without getting cramped. The interior also has plenty of standard features such as the audio system, power locks, control mounted steering wheel and connectivity to modern devices.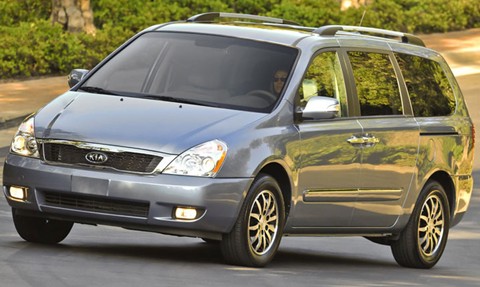 Safety
The National Highway Traffic Safety Administration has only tested the Sedona for rollover. It scored 4 out of 5 stars. The Insurance Institute for Highway Safety gave the Sedona a "poor" score in roof strength tests but gave it a "good" score in front, side impact and rear crash tests.
The Sedona also has standard safety features such as anti-lock brakes, traction control, tire pressure monitoring system, stability control and airbags.
Reliability
The Sedona comes with a 5-year standard warranty, a powertrain warranty that lasts for 10 years, a 5-year perforation warranty, and 24 hour road assistance that lasts for 5 years. Indeed, Kia provides one of the lengthiest warranties for cars in the market.
Pros
The 2012 Sedona offers best value with all the amazing features that it has. It has a capable engine, a comfortable and quiet cabin, and excellent handling. It also has adequate space for children and adults alike.
With it you can have a smooth ride whether you are on straight or curvy roads. It also has excellent warranty which gives great value for your money.
Con
The only complaint that an owner may have is the lack of upgrade options and the subpar materials for the interior.
After looking closely at what the 2012 Kia Sedona has to offer, we conclude that it is a better choice for families that are looking for an affordable minivan.
The Honda Odyssey (MSRP $28,375; 18 city / 27 hwy), Dodge Grand Caravan (MSRP $20,995; 17 city / 25 hwy), and the Sienna from Toyota (MSRP $31,930; 17 city / 23 hwy) are other minivans available in the market.
Overall Rating


72 out of 100
What others say:
"The only Korean-brand minivan on the market, the Kia Sedona carries a family-friendly vibe into what's likely its last year on sale in its current form."Car Connection
"The aging Sedona has many features for the money but falls short overall. Controls are simple to use, fit and finish is good, and the cabin is flexible for storage."MSN Auto-ConsumerReports
"There is nothing "van-like" about the 2012 Kia Sedona minivan's ride and handling. Overall, driving the Sedona is a pretty uneventful chore, with strong acceleration made possible by the potent 271-horsepower V6."KBB
"Excellent warranty; comfortable ride; quiet cabin; great value. Some subpar interior materials and controls; restrictive and tiered options packages."Edmunds