One of the most successful products of thoughtful redesigning, the 2011 Kia Optima has emerged from a lacklustre sedan to a car ready to battle with the best in the midsized car category. Contemporary customers' favorites such as Toyota Camry and Honda Accord have found a good competition with this fully reworked Kia model. With the addition of a highly powerful 2.0-liter engine and an Optima Hybrid option, almost any kind of shopper has a Kia Optima car to consider.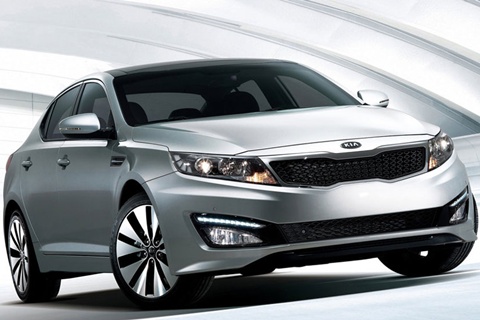 Specifications
General Info

| | |
| --- | --- |
| Vehicle Type: Sedan | Base Price: $19,200.00 |
| Fuel Tank Capacity: 18.5 gallons (70 liters) | MPG: 24 city / 35 hwy |
Dimensions

| | |
| --- | --- |
| Length: 190.7 in. (484 cm) | Width: 72 in. (183 cm) |
| Height: 57.2 in. (145 cm) | Wheel Base: 110.1 in. (279 cm) |
| Curb Weight: 3206 lbs (1454 kg) | Ground Clearance: 5.3 in. (13 cm) |
| Luggage Capacity: 15.4 cu ft | Maximum Seating: 5 people |
Performance

| | |
| --- | --- |
| Engine: 2.4L 16-Valve DOHC Inline-4 | Displacement: 2359 cc |
| Horsepower: 200 HP | Max RPM: 6300 RPM |
| Torque: 186 lb-ft @ 4250 rpm | Transmission: 6-Speed Manual OD |
| 0-60 mph: 7.7 seconds | 1/4 Mile: 16 seconds |
Available Trims & Engine

| | |
| --- | --- |
| Option:Optima LX Auto | MSRP: $20,700; MPG: 24 city / 34 hwy |
| Option:Optima EX | MSRP: $22,700; MPG: 24 city / 34 hwy |
| Option:Optima EX Turbo | MSRP: $24,700; MPG: 22 city / 34 hwy |
| Option:Optima SX | MSRP: $26,200; MPG: 22 city / 34 hwy |
Performance
The 2.4-liter engine performs well enough on the road displaying good fuel economy and above average 24mpg city and 35 mpg highway EPA ratings. It has a six-speed automatic transmission, which has gotten quite a mixed reception. A number of reviewers agreed that the 2011 Kia Optima brings a balanced feel to both smooth highway rides and back road driving. It provides good brake performance and accurate steering that can be compared to the performance of the best-handling cars in the league.
Exterior & Interior
Hardly anyone expects a family car to be as handsomely built as the Optima. The fully refurbished car dons a sporty, expensive-looking exterior that is sure to turn heads. Its European style, crafted by world-renowned designer Peter Schreyer, puts Optima at the top of the midsize sedans currently available in the market. Young male adults will surely be tongue-tied just looking at its tough, masculine built.
The Optima's handsome wrap doesn't disappoint reviewers with its matching classy interior. It has adequate room for five passengers and still a lot more space for your stuff in its 15.4 cubic feet cargo space. The seats are adequately supported but reviewers find the back seat a little tight for tall passengers who would seat at the back as the roofline is lower.
Also, the Optima is loaded with a lot of smart and high-tech features that easily impresses reviewers: a complete entertainment system, USB port, Bluetooth, auxiliary input jack, UVO, air-conditioned glove box, and heated-and-cooled seats option to name a few.
Safety & Reliability
The Kia Optima is armed with an electronic stability control standard that has made it a Top Safety Pick of IIHS. It passed tests crash tests conducted by the federal government with flying colors and guarantees strong front, roof, side, and back.
The Competition
Aside from the Optima, there are other well-reviewed midsized cars that deserve proper commendation. Other vehicles that are of the same class as the Optima are the Honda Accord (MSRP $21,380; 23 city / 33 hwy), Chevrolet Malibu (MSRP $21,650; 22 city / 33 hwy), and the Toyota Camry (MSRP $22,975; 22 city / 33 hwy). The Hyundai Sonata (MSRP $19,395; 24 city / 35 hwy), a cousin of the Kia family, also boasts of a long warranty guarantee and comfortable seats at the back.

Pros & Cons
Reviewers talk excitedly about Optima's sporty and attractive European style exterior that is sure to turn heads on the streets. Other good points raised about Optima pertained to its feel-good driving experience, outstanding fuel economy, Front side features such as the Bluetooth and USB connector, and overall roomy interior.
Some of the minor complaints received point to the lack of headroom on the rear seat and too little padding on the seats caused by a rather stylish, low roofline cut. Also, though the UVO was perfect, it couldn't be activated along with the navigation device simultaneously.
Finally
The 2011 Kia Optima obviously has what it takes to compete in the highly aggressive market for midsize family sedans. It has slick, chiselled features that would make almost anyone fall in love. Kia has made a strong reputation as a quality vehicle manufacturer that choosing a fully loaded car like the Optima is a good value for your money.
Overall Rating


80 out of 100
What others say:
"Kia simply gets it; basic doesn't have to be boring, and the 2011 Kia Optima shows that mid-size sedan shoppers don't have to settle to design boredom or a lack of features."Car Connection
"Optima is among the sportier-feeling mainstream midsize sedans; it's reasonably poised and nimble in quick changes of direction."Consumer Guide
"The styling is bolder and less bland, and distinctly different from the mechanically similar Hyundai Sonata."MSN Auto-ConsumerReports
"Can be tight on headroom; disappointing real-world fuel economy and driving experience for hybrid; numb steering."Edmunds
"The 2011 Kia Optima backs up its standout styling with driving dynamics and an equipment list that outclass most of its competitors'. And price is still a strong suit."KBB