The 2011 Kia Forte now also comes with a hatchback option. As one of the previously less rated cars in 2010, the newly remodeled Forte returns with bigger surprises when it comes to safety, interior, and exterior aspects.
Performance
The new Kia Forte has double 2.0-liter and 2.4-liter four-cylinder engine both equipped with six-speed manual and automatic transmission options. This element is one of the most noticeable upgrades manufacturers of the previous Forte models have incorporated. Reviewers have mixed reactions with its performance; some claims it has a zippy acceleration and others call it rather sluggish and sloppy.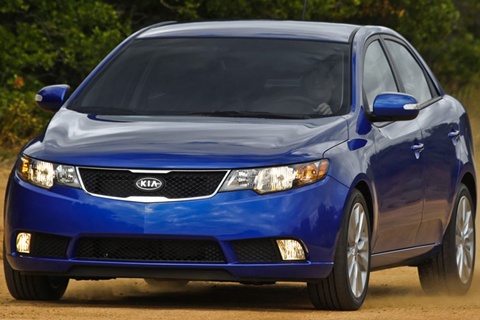 Specifications
General Info

| | |
| --- | --- |
| Vehicle Type: Sedan | Base Price: $15,200.00 |
| Fuel Tank Capacity: 13.7 gallons (51.8 liters) | MPG: 25 city / 34 hwy |
Dimensions

| | |
| --- | --- |
| Length: 178.3 in. (452 cm) | Width: 69.9 in. (177.5 cm) |
| Height: 57.5 in. (146 cm) | Wheel Base: 104.3 in. (265 cm) |
| Curb Weight: 2729 lbs (1237 kg) | Ground Clearance: 5.9 in. (15 cm) |
| Luggage Capacity: 14.7 cu ft | Maximum Seating: 5 people |
Performance

| | |
| --- | --- |
| Engine: 2.0L 16-Valve DOHC Inline 4 | Displacement: 1998 cc |
| Horsepower: 156 HP | Max RPM: 6200 RPM |
| Torque: 144 lb-ft @ 4300 rpm | Transmission: 6-Speed Manual OD |
Available Trims & Engine

| | |
| --- | --- |
| Option:Forte EX | MSRP: $17,600; MPG: 26 city / 36 hwy |
| Option:Forte SX | MSRP: $19,100; MPG: 23 city / 32 hwy |
| Option:Forte 5 Door EX | MSRP: $18,100; MPG: 26 city / 36 hwy |
| Option:Forte Koup EX | MSRP: $17,200; MPG: 24 city / 33 hwy |
For one, this car isn't sporty in any way. It's under-steering and frequent body roll makes it awkward to do speed and rough riding. However, if you're looking for a reliable car to get you where you needed to be and skip all the hassles of daily commute, this hatchback will prove an excellent candidate. Each ride is quiet and comfortable enough, with a little exception on the intrusive noise it makes when treading on awkward road surfaces. It comes with a speed-sensitive steering gears, four-wheel disc brakes, and suspension that were carefully tailored to suit American roads well.
Exterior & Interior
Reviewers rave about the modern look the Kia Forte dons. It has a new front grille and a handsome fascia design that sets it apart from the typical Hyundai image Kia cars exude. The Forte sedan has been noted for its crisp, athletic stance and the Koup brings in a new style dimension to the Forte series.
Excellent ergonomics is the most outstanding definition of the Forte. With a roomy, expandable 14.7 cubic feet trunk space and comfortable seating options, the Forte is ready to compete with the high-end small cars. The back seats are a bit small and can confidently seat two adults on light travels. The carpeting and major parts of the car are indeed made of fine-grade materials made to withstand moderate wear and tear. The front section of the car features interesting extras like an iPod connector and Bluetooth option.
Safety & Reliability
The Forte models may have the same safety ratings as with the 2010 models as little changes had only been made to its safety features. It comes with an advance air bag system, impressive anti-lock brakes, brake assist gear, tire pressure monitoring system, TCS or traction control, and ESC or stability control which makes it one of the most reliable small cars for 2011.
The Competition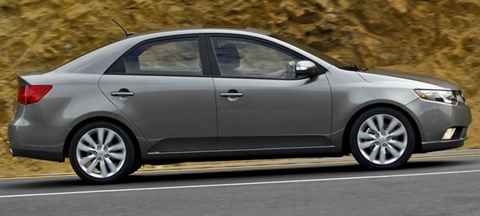 The Kia Forte hatchback has an overall shorter body length than all the other 2010 Kia Forte cars in the series but it remains longer than three other contemporary small cars such as Volkswagen Golf (MSRP $17,995; 23 city / 33 hwy), Honda Fit, and Ford Fiesta. The handsome look this newly updated car sports will attract young, Gen-Y shoppers who might opt to buy either Scion TCs (MSRP $18,575; 23 city / 31 hwy) or Honda Civic Coupes (MSRP $17,655; 28 city / 36 hwy).
Now that a four-door hatchback was included in the Forte series, the Ford Fiesta and Honda Fit have found a worthy opponent in the hatchback league. The Ford Fiesta (MSRP $13,200; 28 city / 37 hwy) comes with a wide, 26 cubic feet cargo space at the back of the front row seats. The Honda Fit (MSRP $15,100; 27 city / 33 hwy) has an SUV-like 57.3 cubic feet cabin provides generous trunk space as well.
Pros & Cons
Reviewers gave two thumbs up to Kia Forte's spacious interior, Bluetooth amenity, excellent fuel economy, 10-year warranty, and affordability. Some cons listed were about the noise it produces when trudging on rough planes, limited telescoping ability of the steering wheel, lack of a navigation system, and average handling.
Finally
The 2011 Kia Forte is a dependable small car that comes with a good price tag. No fancy promises offered for too adventurous riders but it surely is a reliable car for an average user. This is one good pick.
Overall Rating


74 out of 100
What others say:
"The 2011 Kia Forte exemplifies the new direction of Kia, with a simple, elegant style, unexpected levels of refinement, and lots of value for the money."Car Connection
"While not as buttoned down as its main Japanese rivals, Forte more than holds its own. Steering feel is fine on the highway, but it's a bit heavy at low speeds. Braking control is good, but one test car suffered from a touchy pedal."Consumer Guide
"The Forte is competitive in the small car class but lacks refinement."MSN Auto-ConsumerReports
"Good fuel economy; excellent handling in SX trim; affordable pricing; long warranty; standard Bluetooth."Edmunds
"From a driver's standpoint, the 2011 Kia Forte feels right at home on long stretches of highway, but push it hard in the curves and the suspensions limitations quickly become apparent."KBB