Tracing its roots from the wartime vehicles that have lorded during the 1940s, the Jeep is widely considered to be the first SUV. Nowadays, they are now a brand that creates 4×4 models true to the tradition of the original Jeep. Among those that are aiming to continue the tradition is the Jeep Liberty, a compact SUV.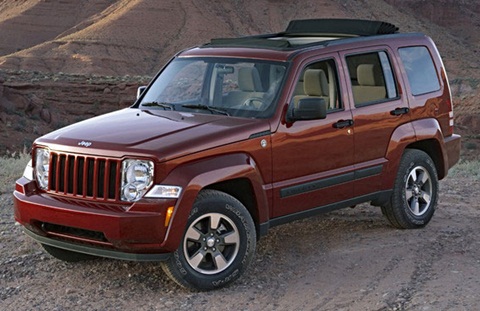 Exterior & Interior
One of the strongest points of the 2011 Jeep Liberty is its exterior. Incorporating the rugged style that Jeep is known for. This is particularly appealing for the crowd that loves their SUVs to be those types that look like they are ready to rumble. In addition, this design is not just stylish, it is very distinctive. And then there is the optional Sky Slider. A canvas type sunroof, it is one of the most unique features found in the SUV market. Not only that, but it is at least 3 times bigger than the next biggest SUV retractable roof! For those that want their ride to stand out, this feature is a must try.
However, when exploring the interior, the Liberty might disappoint. Sure, it has basic equipment such as air conditioning, a sound system, and power windows, but it does pale in comparison against its competition. Optional equipment includes Chrysler's Uconnect system and Bluetooth.
As for the seats, its headroom is adequate enough, but for those that are going to sit on the rear end, they are going to have problems with the limited legroom that it offers. And with a cargo that measures 31.5 cubic inches and 64.2 cubic feet when the rear seats are folded, it is adequate for most but still quite small for a compact SUV. However, it is compensated by the good opening of the rear hatch, enhancing optimal usage of that limited trunk space.
Performance
There is one engine standard for the Jeep Liberty. This is a 3.7 liter SOHC V6 engine. Capable of producing 210 horsepower and 235 lb ft of torque, this is considered to be adequate enough, but it is not exactly a fire breathing beast either. And then there is the fuel economy. Rated to go on an average of 15 to 21 miles per gallon according to the EPA, with the 2 wheel drive variants only marginally better, it is pretty good number for an off-road SUV but not quite up to par with compact SUVs of its size.
As for the suspension, it is drivable in off-road terrain, and it is a comfortable ride because its suspension can absorb contact more than adequately. However, its road manners are not quite that good. In a compact SUV crowd that looks for a bit of versatility, its on road performance leaves a lot to be desired.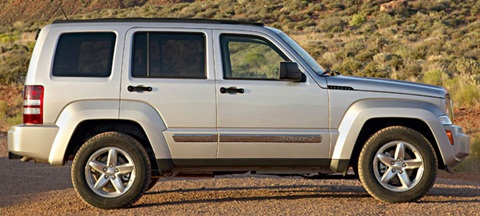 There's a lot to like about the Jeep Liberty. Its looks are distinctive, its interior is simple yet functional, and its off-road abilities are something that is appreciated considering that it is an SUV after all. However, a lot are torn about this vehicle. There is much to be desired when it comes to its engine. And it doesn't necessarily excel in either on or off road performance. And to cap it off, it doesn't have the luxuries, the luggage space, and even rear seat comfort that is expected out of SUVs of its size.
The Competition
The Ford Escape (MSRP $24,670; 21 city / 28 hwy), is one of many competitors that are staying ahead of the Jeep Liberty. Other's that continue to lead are the Toyota RAV4 (MSRP $24,510; 19 city / 27 hwy), and the Honda CRV (MSRP $24,195; 21 city / 28 hwy). It would be wise to look at any of these compact SUVs.
As you can see here, the 2011 Jeep Liberty is quite a mixed bag. It takes a lot out of the table, and yet it brings a lot into it. This is more recommended for those that are more off road oriented, those that look for a statement making style, and those that wouldn't mind its relative simplicity.
Overall Rating


57 out of 100
What others say:
"An unforgiving ride, unrefined feel, and lots of hard plastic spoil the Liberty's fundamentally good packaging."Car Connection
"The gauges are large and easy to read. Most controls are clearly marked and logically placed."Consumer Guide
"The Liberty has clumsy handling but overall is secure."MSN Auto-ConsumerReports
"The 2011 Jeep Liberty can certainly hack it in the bushes, but it struggles on the pavement. Interior quality and fuel economy also leave much to be desired."Edmunds
"If you enjoy the Jeep brand and its outdoorsy image, and appreciate a footprint easy to handle both at the mall and on the trail, the Liberty constitutes one of the better on-road/off-road compromises."KBB
Specifications
General Info

| | |
| --- | --- |
| Vehicle Type: Compact SUV | Base Price: $23,360.00 |
| Fuel Tank Capacity: 19.5 gallons (73 liters) | MPG: 15 city / 21 hwy |
Dimensions

| | |
| --- | --- |
| Length: 176.1 in. (447 cm) | Width: 73.1 in. (185 cm) |
| Height: 71.3 in. (181 cm) | Wheel Base: 106.1 in. (269 cm) |
| Curb Weight: 4076 lbs (1848 kg) | Ground Clearance: 7.8 in. (19.8 cm) |
| Luggage Capacity: 25.2 cu ft | Maximum Seating: 5 people |
Performance

| | |
| --- | --- |
| Engine: 12-Valve SOHC V6 | Displacement: 3.7L |
| Horsepower: 210 HP | Max RPM: 5200 RPM |
| Torque: 235 lb-ft @ 4000 rpm | Transmission: 4-Speed Automatic |
| Max Towing Capacity: 5000 lbs (2268 kgs) | Maximum Speed: NA |
Available Trims & Engine

| | |
| --- | --- |
| Option:Limited Jet Edition 4×2 | MSRP: $26,960; MPG: 16 city / 22 hwy |
| Option:Liberty Sport 4×4 | MSRP: $24,975; MPG: 15 city / 21 hwy |
| Option:Limited Jet Edition 4×4 | MSRP: $28,560; MPG: 15 city / 21 hwy |