An SUV possesses an allure than a sedan can never have, at least not on the same level: space. However, SUV's are notorious for guzzling fuel. Add to that the difficulty of maneuvering through small streets and turning tight corners, and the all-too-important problem of parking. Not to mention, SUV's aren't exactly politically correct in an era where not having a clue about your carbon emission is akin to being un-patriotic. And SUV's aren't exactly the cheapest in the market.
The solution? Try compact SUV's. The roominess, durability, and utility are all present in the tried-and-true compact SUV, the 2011 Honda Element.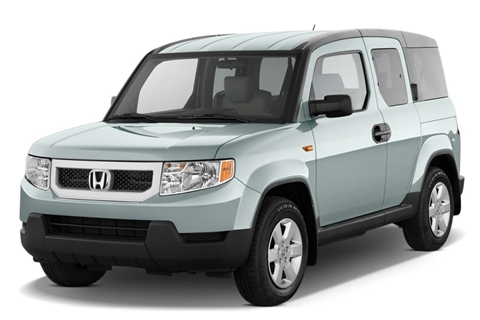 The Element is the pickup truck-cum-SUV of today; the haul-friendly, roomy-yet-compact, mule of a compact crossover. Boasting a lot of room and versatile interior seating and storage, the 2011 is slated to be the final Element before the model is discontinued by Honda. Boasting a unique look that has become a classic (as well as a favorite for imitators), the Element has a tradition of reliability, roominess, and comfort. A stellar performer when it comes to safety—it was given the highest possible score for safety in 2010— the distinctive Honda Element is off to a gracious bow with a myriad of all-too-familiar nifty features.
Engine and Performance

The 2011 Element runs on a four-cylinder engine with a capacity of 2.4 liters, boasting 166 hp and 161 lb-ft of torque through a standard 5-speed automatic transmission. Standard trim offers two-wheel drive, while the EX and LX upgrades net you a four-wheel drive.
At a 20 mpg/25 mpg city/highway fuel efficiency rating, the Element's fuel economy is less than stellar, especially when compared to similar vehicles. The EX and LX options have worse fuel economy ratings.
Interior
While the removable back seats offer versatile carrying and hauling needs, that the Element only seats four makes it a bottom-feeder in the field of compact crossovers. Entry into the rear seats is also a chore, with the front door needing to be opened before the rear half-doors can be accessed. This one glaring weakness is hard to overlook, but the theater-style seating set-up of the 2011 Element offers each passenger more than ample leg and elbow room.
The removable backseat allows you to free up an extra 75 cubic feet of storage, which is one huge selling point of the 2011 Element. The EX upgrade comes with a dog-friendly package of kennel, pet bed, and other features.
Safety and Reliability
The 2010 Element garnered a perfect score for front and side impact protection, given by the Insurance Institute for Higher Safety. While the 2011 has not been subjected to similar tests, it can be easy to imagine it having similar impact protection upside.
Standard safety features include stability assist, antilock disc brakes, traction assist, active head restraints, and front side-impact airbags, and side-curtain airbags.
Competition
A scaled-down, more-affordable cousin of the 2011 Element is the Kia Soul (MSRP $13,300; 26 city / 31 hwy). The Soul features more comfy seats. Although the Soul does not come with all-wheel drive, it should not be a drawback for consumers in milder climes and less-rugged terrain.
Another more-affordable option is the Subaru Forester (MSRP $15,096; 20 city / 27 hwy), which also offers versatile and practical interior seating and storage. The Forester also gets better gas mileage, with an all-wheel drive upgrade the Kia Soul does not have.
Pros
Roomy cabin with versatile seating and storage features, EX upgrade features dog-friendly package, removable backseat frees up more space, boasts a clean and quirky design.
Cons
Seats four, rear half-doors make entry a chore, acceleration is sluggish, fuel economy is less than stellar.
Overall Rating


64 out of 100
What others say:
"If you need to haul stuff more than people, and don't want to part with maneuverability and fuel-efficiency, the 2011 Honda Element is a great choice."Car Connection
"Comfort depends on where you sit. Rear occupants nestle between the wheels and thus endure marked chop and thump over bumps. Front-seaters are more comfortable, but the ride still can be stiff and jiggly on patchy pavement and washboard surfaces."Consumer Guide
"Seats only four; rear half-doors impede rear ingress and egress; unimpressive acceleration and fuel economy."Edmunds
"If you enjoy the benefits of a sport utility (some sport, some utility) then you'll enjoy the ownership experience of an Element…"KBB
Specifications
General Info

| | |
| --- | --- |
| Vehicle Type: Compact SUV | Base Price: $20,825.00 |
| Fuel Tank Capacity: 15.9 gallons | Miles Per Gallon: 20 city / 25 hwy |
Dimensions

| | |
| --- | --- |
| Length: 169.9 in. (431.5 cm) | Width: 71.6 in. (182 cm) |
| Height: 70.4 in. (178.8 cm) | Curb Weight: 3515 lbs (1594 kg) |
| Wheel Base: 101.4 in. (257.5 cm) | Ground Clearance: 6.9 in. (17.5 cm) |
| Luggage Capacity: 25.1 cu ft | Maximum Seating: 4 people |
Performance

| | |
| --- | --- |
| Engine: 16-Valve DOHC i-VTEC® inline 4-Cylinder | Displacement: 2354 cc |
| Horsepower: 166 HP | Max RPM: 5800 RPM |
| Torque: 161 lb-ft @ 4000 rpm | Transmission: 5-Speed Automatic |
| 0-60 mph: NA | Towing Capacity: 1500 lbs (680 kgs) |
Available Trims & Engine

| | |
| --- | --- |
| Option:LX 4WD | MSRP: $22,075; MPG: 19 city / 24 hwy |
| Option:EX 2WD | MSRP: $22,935; MPG: 20 city / 25 hwy |
| Option:EX 4WD | MSRP: $24,185; MPG: 19 city / 24 hwy |