If you are looking for an affordable sports utility vehicle that is affordable but still stylish and convenient, then the 2011 Honda CR-V is the way to go. This baby is actually one of the top rankers in the list of the affordable compact SUVs. It has also been hailed by a good number of reviews as a practical SUV even for family use because of its practicality, style and affordability.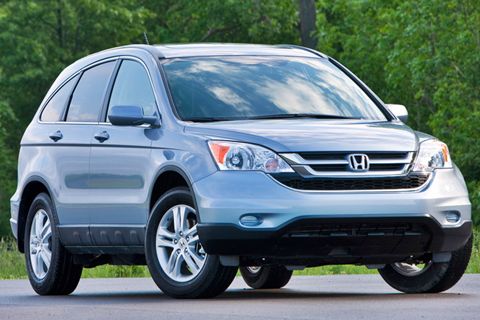 Performance
This model also boasts of good gas mileage coupled with comfortable seats, a lot of interior space and a plenty of room in its cargo area. So essentially, it is what you are looking for—style and functionality rolled into one. So even though this model does not go to the extremes—fastest, most affordable, most stylish, etc.—it is still among the best bargains you can find in the market today. In fact, a great deal of people agrees that this is a great choice for families and it is one of the top models in compact crossover SUVs.
The standard for all Honda CR-V models is the 2.4-liter 4-cylinder engine which comes with 180 horsepower coupled with 161 pound-feet of torque. The transmission is the standard five-speed automatic. And while you have the option to go for an all-wheel drive, the mainstay is still the front-wheel drive.
And although some find these features adequate but not necessarily awesome, it is still a common sentiment that the quality of engineering that goes in to the 2011 CR-V still makes it among the best in the market today. Some customers and experts are also disappointed by the fact that this model did not offer a V6 engine as an option while, in fact, its competitors do.
Exterior & Interior
When it comes to the exterior design and features, a lot of shoppers say that although this model is not really an eye-catcher, it is not plain either. Yes, the Honda CR-V does give a homey look on the outside but Honda still tried to five it an edge with a two-tiered grill and distinctive side profile for a more upscale design.
As for the interior features and design, this model has really impressed customers and experts. The cabin has been hailed as both functional and stylish at the same time. The quality of the materials used is top notch. The gauges are also clear. The controls are also conveniently placed so you can easily operate them. And the fact that this model has a split-level cargo area really makes it a good automobile for the family. Cargo capacity is also pretty much impressive.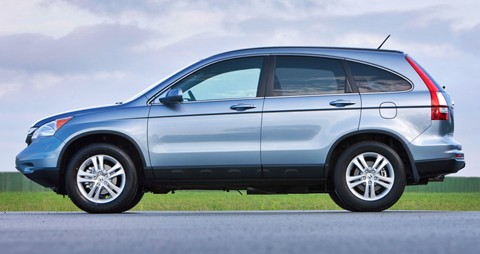 Safety
And if you are eyeing this for the family, then you will also be impressed with the safety features that come with the package. There are antilock disc brakes coupled with an anti-skid system. And as a standard, this model also includes the Advanced Compatibility Engineering body structure, Vehicle Stability Assist, and airbags. There are also active front seat head restraints and a pedestrian injury mitigation system.
When it comes to reliability, you will be pleased that this model actually got a 9 out of 10 rating in the Predicted Reliability rating by J.D. Power. It also comes with a basic warranty of three years or 36,000 miles, and a 60,000-mile or five-year power train warranty. There is also a limited corrosion warranty for five years without mileage restrictions.
In the end, what the customers like most about this model is its spacious passenger and cargo areas, family-friendly features, crashworthiness, agile handling, and straightforward interior controls.
On the other hand, some reviews do not like the fact there is no optional upgrade for this model. There are also those who think that road noise is somewhat more intense or audible, and that the transmission falls short of the manual mode.
Competition
Ultimately, although the 2011 Honda CR-V is already a good buy, you can still make comparisons with it closest competitors, like the Volkswagen Tiguan (MSRP $23,720; 18 city / 26 hwy), GMC Terrain (MSRP $24,250; 22 city / 32 hwy), Ford Escape Hybrid (MSRP $30,570; 34 city / 31 hwy) and Chevrolet Equinox (MSRP $22,995; 22 city / 32 hwy) for comparison.
Overall Rating


75 out of 100
What others say:
"The 2011 Honda CR-V is homely, as well as unexciting to drive; yet it's a great minivan alternative on many counts—appealing to practical shoppers with a roomy, versatile interior and top safety ratings."Car Connection
"CR-V is compact-car maneuverable and reasonably fun to drive. Body lean in fast turns is kept in check. The steering is nicely weighted, communicative, and accurate. The brakes provide very good stopping control."Consumer Guide
"Spacious passenger and cargo areas; straightforward interior controls; nifty family-friendly features; agile handling; exemplary crashworthiness."Edmunds
"There's little pizzazz in practical. If you chafe in sensible shoes, a compact crossover may not be the right fit for you."KBB
Specifications
General Info

| | |
| --- | --- |
| Vehicle Type: Compact SUV | Base Price: $21,895.00 |
| Fuel Tank Capacity: 15.3 gallons | Miles Per Gallon: 21 city / 28 hwy |
Dimensions

| | |
| --- | --- |
| Length: 179.3 in. (455.4 cm) | Width: 71.6 in. (182 cm) |
| Height: 66.1 in. (168 cm) | Curb Weight: 3386 lbs (1536 kg) |
| Wheel Base: 103.1 in. (261.8 cm) | Ground Clearance: 6.7 in. (17 cm) |
| Cargo Capacity: 35.7 cu ft | Maximum Seating: 5 |
Performance

| | |
| --- | --- |
| Engine: 16-Valve DOHC i-VTEC® inline 4-Cylinder | Displacement: 2354 |
| Horsepower: 180 hp | Max RPM: 6800 rpm |
| Torque: 161 lb-ft @ 4400 rpm | Transmission: 5-Speed Automatic |
| 0-60 mph: NA | Towing Capacity: 1500 lbs (680 kgs) |
Available Trims & Engine

| | |
| --- | --- |
| Option:SE 2WD | MSRP: $22,595; MPG: 21 city / 28 hwy |
| Option:LX 4WD | MSRP: $23,145; MPG: 21 city / 27 hwy |
| Option:SE 4WD | MSRP: $23,845; MPG: 21 city / 27 hwy |
| Option:EX 2WD | MSRP: $24,195; MPG: 21 city / 28 hwy |
| Option:EX 4WD | MSRP: $25,445; MPG: 21 city / 27 hwy |
| Option:EX-L 2WD | MSRP: $26,845; MPG: 21 city / 28 hwy |
| Option:EX-L 4WD | MSRP: $28,095; MPG: 21 city / 27 hwy |
| Option:EX-L 2WD w/ Navigation System | MSRP: $28,845; MPG: 21 city / 28 hwy |