With the 2011 CR-Z, Honda was trying to accomplish some very daunting tasks: to marry oft-disparate concepts into a 'sporty hybrid'. That is, a compact car with good fuel economy, but without the road sluggishness.
Of course, with an overwhelming design brief and challenging performance specs to carry out, Honda did not—nor would anyone want to—completely start from scratch. The fun-meets-fuel-economy approach was recently used on the Honda Accord Hybrid. Sales were not encouraging, so the CR-Z is the second go-round in what Honda hopes is an affordable, successful line of sporty hybrids.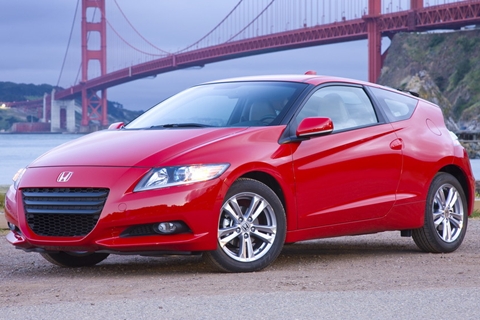 The Honda CR-Z's design and performance tie into Honda's history as a quirky car company. Many will take a look at the CR-Z and conjure up images of the mid-80's Honda CRX, what with the stubby rear design lines and the two-seat set-up. Indeed, the CRX was the CR-Z great granddad of sorts, only the CR-Z isn't living up to tradition.
While the CRX was a stripped-down, trim number that could still run on the road, the CR-Z is a textbook jack-of-all-trades, master of none. While trying to mesh fuel economy and fun performance in a compact, affordable package, Honda actually made the CR-Z notoriously lagging in both departments. Carbon footprint-conscious consumers will be disappointed at the car's less-than-stellar fuel economy, at least judging by current industry standards. And the CR-Z can barely be called 'sporty' when compared to most gasoline cars.
Engine & performance
The Honda CR-Z is powered by Honda's Integrated Motor Assist (IMA), earlier used on the Insight. The CR-Z's IMA system pairs a 112-hp gasoline engine, churning out 107 lb-ft of torque, with an electric motor that contributes another 13 hp and 58 lb-ft of torque. Transmission options available are the classic six-speed manual set-up and the continuously variant transmission (CVT), a staple in hybrids.
Exterior
Compact and svelte, the CR-Z's design lines are similar to that of the CRX from the 1980's. Stubby rear end and compact features evoke the carbon-footprint-conscious appeal. Its trim frame makes it the perfect vehicle for squeezing into odd parking spaces or weaving through slow traffic.
The 2011 CR-Z is available in three body trims: stock, EX, and EX with navigation. Stock features include 16-inch alloy wheels, automatic headlights, automatic climate control, and cruise control. EX features include xenon headlights and taillights, anti-fog side mirrors, and Bluetooth. EX with navigation function features voice-activated navigation system.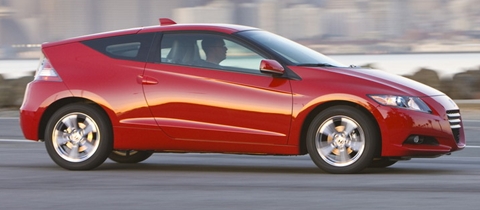 Interior
The biggest drawback of the CR-Z in terms of interior is the lack of space. It being a two-seater already makes it an oddity in the current market, where it certainly loses out to, say, the Mini Cooper and its small-but-adequate backseat. This is certainly not a family car, but is perfect for the solo cruiser. The EX features a metallic interior trim and plush leather steering wheel cover.
Safety & Reliability
The CR-Z's safety features include antilock brakes, stability and traction control, active head restraints, and front seat as well as side curtain airbags.
Comparisons
The Mini Cooper (MSRP $19,400; 29 city / 37 hwy) offers a similar trim exterior, with more seating space. It does run on gasoline, but has decent fuel efficiency ratings.
The Toyota Prius (MSRP $23,520; 51 city / 48 hwy) and the Honda Insight (MSRP $19,900; 40 city / 43 hwy) are hybrid models the CR-Z cannot help but to being compared to, and are good alternatives. Although the CR-Z handles way better than the Prius, the Prius boasts better gas mileage ratings.
The Scion tC Sports Coupe (MSRP $18,275; 23 city / 31 hwy) is another car worth comparing the CR-Z with.
Pros & Cons
Compact size and excellent handling, good fuel economy, sporty hybrid looks. Suffers from lack of interior space, only seats two, less sporty compared to gasoline cars.
Overall Rating


68 out of 100
What others say:
"As it's closely related to the 2010 Honda Insight five-door hatchback, Honda is careful to pitch the CR-Z as a hybrid sports coupe, and to put a little distance between its illustrious hot-hatch history."Car Connection
"CR-Z is quite nimble, but not as outright sporty as Honda would like you to think. This is primarily caused by moderate noseplow and early-onset squeal from fuel-economy-biased tires during even moderate cornering."Consumer Guide
"Poor rearward visibility, most competitors have backseats, missing a few upscale features."Edmunds
"Although space is limited to two people and it's not as powerful as other competitors, the CR-Z's main draw is its ability to achieve hybrid-car fuel efficiency while delivering sporty driving dynamics."KBB
Specifications
General Info

| | |
| --- | --- |
| Vehicle Type: Hybrid Sport | Base Price: $19,345.00 |
| Fuel Tank Capacity: 10.6 gallons | Miles Per Gallon: 35 city / 39 hwy |
Dimensions

| | |
| --- | --- |
| Length: 160.6 in. (407 cm) | Width: 68.5 in. (174 cm) |
| Height: 54.9 in. (139.4 cm) | Curb Weight: 2637 lbs (1196 kg) |
| Wheel Base: 95.9 in. (243.5 cm) | Ground Clearance: NA |
| Luggage Capacity: 25.1 cu ft | Maximum Seating: 2 people |
Performance

| | |
| --- | --- |
| Engine: 16-Valve SOHC i-VTEC® inline 4-Cylinder | Displacement: 1497 cc |
| Horsepower (comb.): 122 HP | Max RPM: 6000 RPM |
| Torque: 128 lb-ft @ 1000-1750 rpm (6MT) / 123 lb-ft @ 1000-2000 rpm (CVT) | Transmission: 6-Speed Manual |
| 0-60 mph: 8.2 seconds | 1/4 Mile: 16.2 seconds |
Available Trims & Engine

| | |
| --- | --- |
| Option:EX-6M | MSRP: $20,905; MPG: 31 city / 37 hwy |
| Option:Base CVT | MSRP: $19,995; MPG: 35 city / 39 hwy |
| Option:EX CVT | MSRP: $21,555; MPG: 35 city / 39 hwy |
| Option:EX 6M w/ Navigation | MSRP: $22,205; MPG: 31 city / 37 hwy |
| Option:EX CVT w/ Navigation | MSRP: $23,355; MPG: 35 city / 39 hwy |