For those looking for a vehicle that combines the utility of a light-commercial pick-up truck with the personal touch of a passenger van, the Ford Transit Connect is really what they are looking for. Originally intended as a vehicle for commercial use, the tall taxi concept behind the Transit Connect was designed by Ford of Europe and was inspired by the Ford Focus.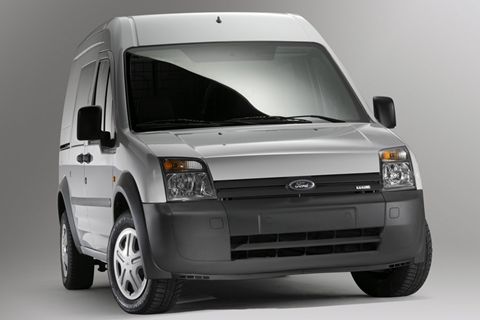 As the second generation of its kind US automaking giant Ford took strategic steps in order to meet the public's clamor for a high-performing personal vehicle with a carrying capacity that's on par with full-size vans in the mainstream consumer automobile market today. Ford offers the 2011 Transit Connect as both a cargo vehicle and a passenger vehicle, rendering several price options corresponding to 8 trims. In addition, Ford also offers their customers an alternative choice, the 2011 Transit Connect's green automobile counterpart, the 2011 Transit Connect Electric.
Performance
The standard 2011 Transit Connect models are powered by a 2.0-liter 4-cylinder gasoline-powered engine, 36 HP and run using automatic transmission. With its impressive 1,600-pound pay load capacity and over 135 cubic feet of cargo or storage capacity, the Transit Connect is deemed comparable to many light-commercial pickup trucks in the market. In form it is classified as a small cargo van; but in terms of performance and functionality the Transit Connect surpasses standard expectations quintessential to small-scale commercial vans.
In fact, the Transit Connect's cargo, pay load and towing capacity make this automobile highly versatile without being unwieldy or possessing the gas guzzling drawbacks of a conventional larger-size cargo automobile. For a vehicle of its carrying capacity and size it manages 21 miles per gallon in City driving while 26 miles per gallon driving in the highway.
Exterior & Interior
The exterior as well as the inside of the Transit Connect does not disappoint. The earlier version may have had less premium features and amenities due to the 2010's spartan commercial van blue print, but the 2011 Transit Connect passenger van version comes with additional lateral windows to give it a more personal appeal which makes it more conducive as a private vehicle.
Available in XL, XLT or XLT Premium trims, a second row of backseats may be added to the 2011 Transit Connect passenger van that increases the vehicle's rear seating capacity to about 5 persons. The XLT premium model includes hood and grille appliqué in chrome, monochromatic exterior door handles and mirrors plus a four-speaker audio system. The cargo van version, that either comes with steel lateral panels or windows in the sliding side doors, is available in either XL or XLT models both having bam rear doors. A Works Solutions computer system feature added by Ford is a time and energy saver since it enables a business owner, for example, to dispatch and coordinate between multiple vehicles easier.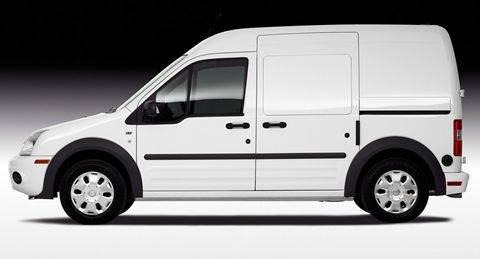 Reliability
The Transit Connect is the result of enhancing the carrying capacity and optimizing the personal feel of a cargo van without the disadvantages conventional full-size cargo vehicles tend to come with. A model with a rear seating is available, but the noisy bare interior and modest number of windows in the sides reduces its attractiveness as a passenger workhorse. However, the Transit Connect is in its element as a full-fledged commercial vehicle. It may be inferior in terms of dynamics and less appealing because of the noise, but it certainly does an excellent job when it comes to fuel efficiency, utility and innovative connectivity features.
The Competition
How does the 2011 Transit Connect compare against top competitors of the same price range and class? There are two ways of approaching this important angle. The first deals with the Transit Connects cargo capacity. As a small van it is a logical choice compared to full-size cargo vans since it delivers a comparatively small footprint with 30% better fuel economy than its more conventional counterparts such as the Chevrolet Express Cargo Van (MSRP $24,985; 13 city / 17 hwy) and the GMC Savana Cargo Van (MSRP $24,985; 15 city / 20 hwy) even if large-size vans cover more miles per gallon.
What the Transit Connect lacks in mileage it makes up in terms of ample interior room. The Transit Connect packs a significant amount of room, whether for passengers or cargo.
Overall Rating


65 out of 100

What others say:
"It packs an impressive amount of room inside a small footprint. It steers nicely and has a commanding driving position."Consumer Reports
"Handling is benign, though the tall Transit Connect scores points for its maneuverability on city streets–a tight turning circle and and wheels placed near the corners help greatly in this regard."The Car Connection
"The 2011 Ford Transit Connect lineup expands with a new trim level and versions that are capable of running on batteries, compressed natural gas (CNG), or liquid petroleum gas (LPG). Based on a design sold in several worldwide markets, Transit Connect can seat 2 or 5 passengers."Consumer Guide
"Designed for the European market, the compact 2011 Ford Transit Connect is easy on fuel, relatively inexpensive to purchase and as versatile as a Swiss Army Knife." General Info
Vehicle Type: Commercial/Passenger Van
Base Price: $ 21,290.00
Fuel Tank Capacity: 15.4 gallons
Miles Per Gallon: 21 city / 26 hwy
Dimensions

| | |
| --- | --- |
| Length: 180.6 in. (459 cm) | Width: 83.2 in. (211 cm) |
| Height: 79.3 in. (201 cm) | Weight: 3405 lbs (1545 kg) |
| Wheel Base: 114.6 in. (291 cm) | Ground Clearance: 7.9 in. (20 cm) |
| Luggage Capacity: Max. 135.3 cu ft | Maximum Seating: Passenger-5 |
Performance

| | |
| --- | --- |
| Engine: 2.0L Duratec® DOHC I4 | Displacement: 122/1999 |
| Horsepower: 136 hp | Max RPM: 6300 rpm |
| Torque: 128 lb-ft @ 4750 rpm | Transmission: 4-Speed Automatic/overdrive |
| 0-60 mph: N/A | Max Payload: 1600 lbs (726 kgs) |
Available Trims & Engine

| | |
| --- | --- |
| Option:XLT Van 2.0L Duratec® DOHC I4 | MSRP: $22,350; MPG: 21 city / 26 hwy |
| Option:XLT Wagon 2.0L Duratec® DOHC I4 | MSRP: $23,140; MPG: 21 city / 26 hwy |
| Option:XLT Wagon Premium 2.0L Duratec® DOHC I4 | MSRP: $23,290; MPG: 21 city / 26 hwy |