The Dodge Viper is back once again, this time sporting an enhanced look. This two-door sports car has more refined designs for comfort, incorporating sophisticated styling and rich interior design, outstanding utility while offering a pleasant and safe ride. Body styles are available in either Roadster or Coupe.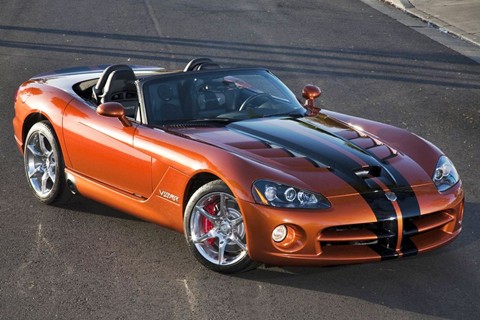 Specifications
General Info

| | |
| --- | --- |
| Vehicle Type: Coupe | Base Price: $92,705.00 |
| Fuel Tank Capacity: 16 gallons (60.5 liters) | Miles Per Gallon: 13 city / 22 hwy |
Dimensions

| | |
| --- | --- |
| Length: 175.7 in. (446 cm) | Width: 75.2 in. (191 cm) |
| Height: 48.6 in. (123 cm) | Wheel Base: 98.8 in. (250 cm) |
| Curb Weight: 3440 lbs (1560 kg) | Ground Clearance: 5.1 in. (12.9 cm) |
| Luggage Capacity: 14.7 cu ft | Maximum Seating: 2 people |
Performance

| | |
| --- | --- |
| Engine: 20-valve V10 OHV | Displacement: 8.4-liter |
| Horsepower: 600 HP | Max RPM: 6100 RPM |
| Torque: 560 lb-ft @ 5000 rpm | Transmission: 6-Speed Manual |
| 0-60 mph: 3.6 seconds | 1/4 Mile: 11.8 seconds |
Available Trims & Engine

| | |
| --- | --- |
| Option:SRT10 Final Edition | MSRP: $100,400; MPG: 13 city / 22 hwy |
| Option:SRT10 ACR | MSRP: $107,255; MPG: 13 city / 22 hwy |
| Option:SRT10 ACR Snakeskin ACR | MSRP: $110,055; MPG: 13 city / 22 hwy |
| Option:SRT10 Roadster | MSRP: $91,955; MPG: 13 city / 22 hwy |
| Option:SRT10 Roadster Final Edition | MSRP: $99,650; MPG: 13 city / 22 hwy |
Performance
The 2010 Dodge Viper is powered by 8.4 liter V10 engine that generates 600 horsepower and 560 pound-feet of torque. The six-speed manual transmission was modified for faster, better maneuverability and more responsive shifting. Its EPA estimated rate is 13 mpg city/22 mpg highway and 16 mpg combined.
Exterior
On its exterior, the Viper boasts of sleek lines and an aggressive stance, evoking a no-nonsense approach to performance. Standard on both trims are Michelin Pilot Sport PS2 tires with a front dimension of 275/35R18 and 345/30R19 in the back. However, for track use, the Coupe trim can be upgraded to American Club Race (ACR) which comes with massive wing highly ascended above the tail, fender-mounted dive planes, lighter wheels shod with stickier tires, deleted fog lamps and lighter brake rotors.
Interior
Further maintaining its status as a paragon of techno brilliance are full power accessories, keyless entry, seven-speaker sound system which includes a CD player, tilt steering wheel and power adjustable pedals. Integrated in the race-inspired leather seats is a six-point harness pre-fabrication. Satellite radio and navigation system can also be added in any trim. For better performance on the race track, the Hard Core package is recommended. With this feature, non-track essentials such as radio, speakers, tire inflator, trunk upholstery, etc. are eliminated to shed off 42 pounds. The measuring devices like the gauges on the instrument panel are positioned centrally for easy reading. Climate controls are also included. Two-tone color schemes and dash panel inserts can be incorporated for a livelier interior.
Braking & Safety
Outstanding on the 2010 Dodge Viper is the stopping power which is guaranteed reliable in braking at 160 mph in less than 100 feet. It also comes with anti-lock brake system with 14-inch rotors, adjustable pedals, knee bolsters and front airbags. Intended for track use, the Viper does not include practical and standard features as in regular vehicles such as side airbags, traction control and stability control. It has not been assessed by the federal government and the Insurance Institute for Highway Safety. That is why great racing skills are required of any driver. For reliability, the 2011 Dodge Viper only offers a three year/36,000-mile basic warranty.
The Competition

Many are fans of the 2010 Viper for its power, speed and handling. But it seems that the 2010 Nissan GT-R (MSRP $89,950; 16 city / 23 hwy) is more astonishing as this sports car can sort of "teleport" from 0 to 60 mph in just three seconds! Also, this Viper counterpart offers a longer list of convenience features. For more roomy cargo storage, the Mercedes-Benz SL (EMV $216,662; 11 city / 18 hwy) is suggested to luxury sports car shoppers. That, and the Porsche 911 Carrera (MSRP $77,800; 18 city / 25 hwy) features a lengthy warranty of four years or 50,000 miles coverage.
Pros & Cons
The 2010 Dodge Viper is not ideal for the less experienced drivers because it lacks standard safety features. Moreover, the other sports cars in its class offer longer coverage. There are also complaints about the long-slung cabin and non-adjustable seats which do not conveniently accommodate the taller or bigger occupants.
Getting in or out can be embarrassing but premium seating experience is assured for its bolsters can hold your body tightly and comfortably in the Viper's low-lying racing seats. Priced at around $90,000, the Dodge Viper is a wise buy for its powerful 600-horsepower V10 engine, quick steering wheel and solid brake pedal.
Overall Rating


64 out of 100
What others say:
"The 2010 Dodge Viper is truly, truly outrageous, from its ground-shaking performance to the paucity of space and comfort it doles out to its owner."Car Connection
"Steering is nicely weighted. Viper's extraordinary width, low center of gravity, and steamroller tires provide uncanny grip and race-car response in quick changes of direction. The suspension is pliant enough to keep Viper on course through bumpy corners taken at reasonable speed. Stopping control is resolute, with fine brake modulation."Consumer Guide
"The Viper's V10 engine was loud and not quite invigorating, and the clutch is heavy. Handling was capable but lacked finesse. Cornering limits are very high, with lots of grip, but the harsh ride, noise, poor driving position, and lack of creature comforts take their toll on the driver. The Viper is no longer in production."MSN-ConsumerReports
"Physics-defying acceleration, outstanding brakes, race-inspired handling, aggressive styling, exclusivity on par with exotics."Edmunds
"The Viper is Dodge's flagship All-American, hand-built exotic sports car. With a traditional front-engine rear-wheel-drive design, the Viper has four-wheel independent suspension with large wheels and tires and massive brakes. "MSN