When the Cadillac Escalade is brought up, different images come to mind. It has its own radical styling. There is its inherent luxury. And there are the infinite customization options available for this car, both from the factory and the aftermarket. However, one of the things that the Escalade is not known for is its ecological sensibility.
It is known as a gas guzzler, and it doesn't exactly bode well for potential owners. With gas prices rising and gasoline supplies becoming scarcer, this characteristic has become a liability. However, Cadillac has an answer for that. It is the 2011 Cadillac Escalade Hybrid.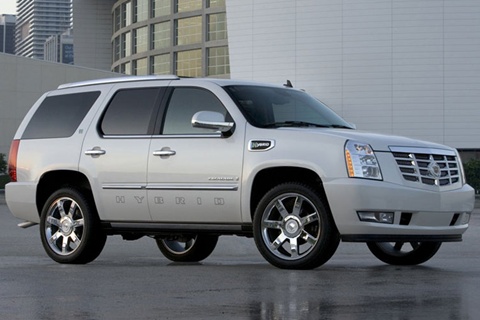 Specifications
General Info

| | |
| --- | --- |
| Vehicle Type: Hybrid SUV | Base Price: $74,135.00 |
| Fuel Tank Capacity: 25 gallons (94.6 liters) | MPG: 20 city / 23 hwy |
Dimensions

| | |
| --- | --- |
| Length: 202.5 in. (514 cm) | Width: 79 in. (200 cm) |
| Height: 75.9 in. (192.7 cm) | Wheel Base: 116 in. (294.6 cm) |
| Curb Weight: 5879 lbs (2666 kg) | Ground Clearance: 9 in. (22.8 cm) |
| Luggage Capacity: 16.9 cu ft | Maximum Seating: 6 people |
Performance

| | |
| --- | --- |
| Engine: 16-Valve OHV V8 Gas/Electric | Displacement: 6.0 liters |
| Horsepower: 332 HP | Max RPM: 5100 RPM |
| Torque: 367 lb-ft @ 4100 rpm | Transmission: 4-Speed Automatic |
| 0-60 mph: NA | Max Towing Capacity: 5600 lbs (2540 kgs) |
Available Trims & Engine

| | |
| --- | --- |
| Option:Hybrid Platinum | MSRP: $85,935; MPG: 20 city / 23 hwy |
Exterior & Interior
From the outside, you won't exactly recognize that this Escalade is equipped with a hybrid engine. It still looks very much the same as a conventional Escalade. Hence, you still get that imposing, menacing styling of the Escalade that endeared it to a lot of people. Only some "Hybrid" (9 to be exact) distinguishes itself from your typical Escalade. However, these badges are either loved or hated by people.
Now, we move onto the inside. When you get inside the car, it also looks and feels like an ordinary Escalade, in which you will feel god or bad about, depending on what your feelings are about this car. This is a large car, so you expect a lot of space. And space is one thing that it has in abundance. In fact, 3 rows of seats are standard for this car. In addition, heated seats are standard equipment (at least on the front). Navigation, the aforementioned heated seats, and a rearview camera are standard equipment. The trunk space is generally considered spacious: 16.9 cubic feet is available if all 3 rows of seats are in use, and up to 108.9 cubic feet is available if both the second and third rows of seats are folded out of the way.
Performance
Of course, the one that would get all the attention in a hybrid is its engine. So is it up to the hype? We shall see. This car is powered by an electric motor coupled with a 6.0 liter V8 engine. Its output is rated at 332 horsepower and 367 lb/ft of torque, which is lower than the conventional Escalade, but still powerful enough nonetheless. Despite the reduced output, it still performs and accelerates very well for a car of its size. Due to the reduced power though, both towing and payload capacity are somewhat lowered.
But the meat of the benefits of the hybrid engine is with the reduced fuel consumption and emissions ratings. In fact, the fuel consumption of the Escalade Hybrid is now rated at 20-23 miles per gallon, a huge step up from the 14 miles per gallon rating of the ordinary Escalade. Sure, this is lower mileage compared to other hybrid cars, but it is still an improvement. And considering the size of this car (most hybrids are small compared to the Escalade Hybrid); it is already quite an accomplishment.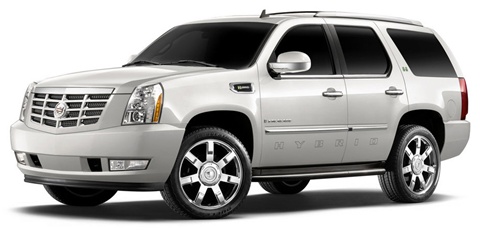 Finally
So, what can we deduce about the Cadillac Escalade Hybrid? First observation, of course, is that the fuel savings are going to be surely appreciated. Those that want to go green while having some bling would be seriously satisfied with this car, as it is still very similar to the normal Escalade. However, on the flipside, the fuel economy of this car is still weak compared to other hybrids. And the usual weaknesses of the Escalade (poor visibility, rear seats are better for small people, etc.) are still there.
The 2011 Cadillac Escalade Hybrid is a creative way to go green. While this is not the most fuel efficient hybrid in the world, it still gives you a lot on the table, while taking away only a little of it. Let's just hope for a lower price tag, and (we think) this should sell.
Overall Rating


80 out of 100
What others say:
"It's also surprising that Cadillac has done little to distinguish (or tone down) the 2011 Escalade Hybrid; other than the fist-sized chrome Hybrid badge on the fender vents, there's little to call this model out from a distance."Car Connection
"The Escalade Hybrid uses a two-mode hybrid system to improve gas mileage up to 50 percent in the city over the non-hybrid version, achieving an EPA rating of 21 mpg in the city and 22 on the highway. "MSN Auto-ConsumerReports
"The 2011 Cadillac Escalade Hybrid's added efficiency and overall value is useful compared to other towing vehicles, but clearly, other more fuel-efficient SUVs are available."Edmunds