Pickup trucks have always been one of the better selling segments in the automotive market. Combining car-like space, truck-like performance, and a huge space at the back, they are one of the most versatile vehicles available. This is why every manufacturer has a bet on this segment, offering various amenities such as performance, comfort, off-road ability, hauling strength, and cargo space just to name a few.
Some car companies claim that their truck is the "Cadillac of pickup trucks", apparently as a salute to this brand's attention to detail and luxurious appointments. Cadillac has responded with a pickup truck of their own. Bringing together what's great in a Cadillac and infusing that in a pickup truck's frame. The end result is the 2011 Cadillac Escalade EXT.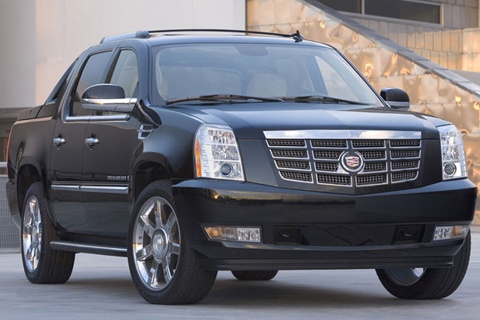 Specifications
General Info

| | |
| --- | --- |
| Vehicle Type: SUV | Base Price: $62,160.00 |
| Fuel Tank Capacity: 31 gallons (117 liters) | MPG: 13 city / 18 hwy |
Dimensions

| | |
| --- | --- |
| Length: 222 in. (564 cm) | Width: 79.1 in. (200 cm) |
| Height: 74.5 in. (189 cm) | Wheel Base: 130 in. (330 cm) |
| Curb Weight: 5858 lbs (2657 kg) | Ground Clearance: 9.2 in. (23 cm) |
| Max. Cargo Capacity: 45.5 cu ft | Maximum Seating: 6 people |
Performance

| | |
| --- | --- |
| Engine: 16-Valve OHV | Displacement: 6.2 liters |
| Horsepower: 403 HP | Max RPM: 5700 RPM |
| Torque: 417 lb-ft @ 4300 rpm | Transmission: 6-Speed Automatic |
| 0-60 mph: NA | Max Towing Capacity: 7600 lbs (3447kgs) |
Available Trims & Engine

| | |
| --- | --- |
| Option:EXT Luxury | MSRP: $67,350; MPG: 13 city / 18 hwy |
| Option:EXT Premium | MSRP: $69,740; MPG: 13 city / 18 hwy |
Exterior & Interior
We should first take note of the exterior, which garners some mixed reviews. This car is essentially a repackaged Escalade, with the rear end transformed into a truck bed. With an innovative folding midgate, you can expand the length of the bed from 5 feet 3 inches to a full 8 feet. The only drawback of this midgate feature is that it exposes the cabin to the elements and necessitates folding the rear seats; hence it reduces the seating to just 2. Still, you can find it useful if the need arises.
Moving up to the interior, it gained a lot of positive reviews, saying that it is a legitimate Cadillac inside. The interior is sprinkled with a generous amount of leather and wood trim, giving it an aura that is legitimately Cadillac. It can seat up to 5 people, but capacity is reduced into 2 if the midgate is in use. Standard equipment includes a navigation system, a rearview camera, and adjustable pedals just to name a few. Additional optional equipment includes an entertainment system, a sunroof, and retractable running boards.
Performance
It is no secret that the Cadillac Escalade EXT is a heavy vehicle. So does that mean that performance is compromised? Well, not exactly, because Cadillac has made an effort to make it performs well. It is endowed with the same 6.2 liter V8 found at the ordinary Escalade, and it generates some serious power. Output is rated at 403 horsepower, endowing this car with some surprising push and acceleration.
It is equipped with the same 6 speed automatic transmission used in the Escalade, and 4 wheel drives comes as standard equipment. This combination is going to bring out a fuel economy rating of 13 miles per gallon during city driving and 18 miles per gallon during highway driving. Low numbers for sure, but those are figures that you expect when owning a full sized SUV. Brakes and steering are also deemed to be excellent, but it could have been better considering the heavy weight of this car.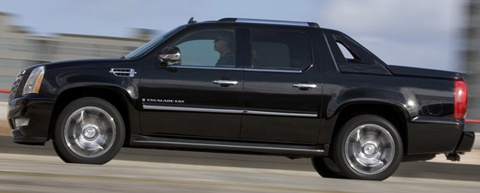 Pros & Cons
So what are the pros and cons on the Escalade EXT? First, we are going to first talk about its strong points. The innovative midgate feature, while using it can be likened to using a double edged blade, it is a very useful feature to expand your luggage capacity, useful for hauling large amounts of payload. In addition, it has all the luxurious amenities you've come to expect in a Cadillac. And to top it all off, the looks of this car is a winner. However, people may not appreciate the weight compromising an otherwise capably handling truck, its poor fuel mileage, and its quirky reputation as something between being utilitarian and non-utilitarian.
All in all, the Cadillac Escalade EXT may just the true "Cadillac of pickup trucks", depending on what you feel about it. It may not have the versatility or capability of a true pickup truck, but its qualities, namely luxury, style, and speed, makes it a worthy contender on the luxury truck market, and that vacant space in your garage.
Overall Rating


70 out of 100
What others say:
"While the Escalade EXT is, to the objective eye, just a luxed-out version of theChevrolet Avalanche, it's arguably much more."Car Connection
"The Cadillac Escalade EXT owns the full-size luxury sport-utility-truck segment with its distinctive style, luxurious appointments, versatility and commanding V8 performance. Then again, it's the only full-size, luxury sport-utility truck."Edmunds
"If you don't need the convenience of a third-row seat, the 2011 Cadillac Escalade EXT offers all the interior amenities of its SUV cousin, but with the added capability of a pickup truck bed."KBB