The 2011 Acura TSX, classified as an upscale small car, currently ranks fourth on the top 10 list of cars of its class. This is according to recent test drives, reviews and analysis by experts and car-lovers. The reviews that were conducted are based on the following criteria, the Acura TSX's reliability, interior and exterior design, safety and of course the engine's performance. There were positive remarks and not so favorable ones but in general, Acura's forthright effort in providing the riding public with an upscale small automobile like the TSX is still worth it.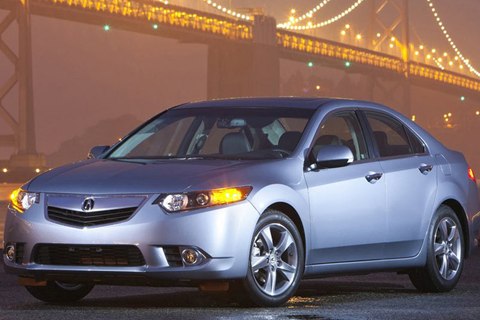 Performance
Now let's talk about the TSX's engine and its performance. With the 2011 TSX, you can choose between the four-cylinder 201 horsepower gasoline engine powered TSX or the V6 TSX that can reach 280 horsepower and 245 pound per feet torque. Both way though, the Acura TSX is easy and enjoyable to drive however some critics suggest that it would be better if Acura also created a manual transmission TSX for the V6 model. As with the driving experience, automobile experts say that it is as good as the Civic or the Accord but it will fall short when compared to entry-level luxury sedans. In terms of braking, both the four-cylinder and the V6 powered TSX provide quick and controlled brakes.
Exterior
At a glance, the exterior design of this Acura is quite typical for most cars of its kind. Although the outer built of the Acura TSX is quite impressive with its sleek and classic look, most automobile experts think that the design is lackluster. Some people think that from behind this small car looks decent, however from the front the exterior is a bit tacky especially the "smiling" nose/ face effect. The 2011 TSX's mediocre rating regarding its outer style is in a way compensated by some satisfactory remarks on its interior design.
Interior
According to critics, Acura made use of solid and durable materials for its interiors, which is quite notable. When it comes to coziness, the front and back seats are properly shaped to provide ultimate comfort. But like other upscale small cars, the TSX failed to provide enough legroom for taller passengers as well as foot space; then again this dilemma is common for cars of this type.
The interior features are remarkable. The TSX sedan has a multi-information display, which is easy to read and is strategically located beside the speedometer. It has steering wheel controls with Bluetooth connectivity, remote control, power windows and moonroof and it has a built in USB Audi Interface which enables passengers to connect their iPod.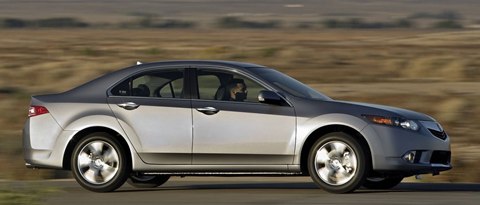 Added Features
Optional features include a navigation system, an ELS Surround sound system for music-lovers and a rearview camera. Automobile press also noted that the sound system of the new Acura TSX is somewhat akin in terms of controls and performance with the Honda Accord. For cargo-space, this sedan is not that spacious as reviews revealed that if buyers would opt for a larger cargo space, the Audi A3 would be a better alternative. Lastly, when interior features are being mentioned, those who conducted test drives rather found it the controls or the navigation keys a little bit confusing since there are numerous knobs and buttons. However, as a whole, the interior of the Acura TSX is still better compared to other 2011 sedans.
Safety & Reliability
Those who will acquire the TSX are assured with a comprehensive warranty and 5-year rust coverage. Most of the accessories pre-installed by dealers are also covered with warranty. And last but definitely not the least, when it comes to safety ratings the TSX is on top of the list. As a matter of fact this sedan scored five in the crash tests that were conducted. This is probably due to this upscale small car's safety features which include 6 airbag system, Electronic Brakeforce distribution, Anti-lock brakes, Tire-pressure monitoring system, Vehicle Stability and Brake Assist.
The TSX is also engineered to protect passengers especially in frontal crash incidents. The 2011 Acura TSX is certainly a good pick for small families who are more conscious on the wellbeing and safety of the passengers rather than the interior or exterior appeal of the car. In general, this Acura is still worth purchasing amidst its higher price tag compared to cars of its type. As it is, it is not ranked fourth for nothing, it is still worth getting.
Overall Rating


76 out of 100
What others say:
"The 2011 Acura TSX is the essence of what the brand should be: compact, light, efficient, and user-friendly—not to mention fully equipped."Car Connection
"This premium compact carves corners with grippy assurance and little body lean. V6 models are subject to some torque-steer wander, but it's fairly well controlled."Consumer Guide
"Impressive number of standard and technology features; spacious interior; sporty handling with V6 sedan and wagon; excellent build and materials quality."Edmunds
"The TSX is a pleasant and mildly sporty sedan. Its smooth engine, slick transmission, and agile handling make it enjoyable, but the steering is vague. The four-cylinder engine gets 25 mpg overall. The supportive front seats are well-shaped, but rear seat room is tight. A V6 is also available."MSN-ConsumerReports
Specifications
General Info

| | |
| --- | --- |
| Vehicle Type: Sedan | Base Price: $29,610.00 |
| Fuel Tank Capacity: 18.5 gallons (70 liters) | Miles Per Gallon: 22 city / 31 hwy |
Dimensions

| | |
| --- | --- |
| Length: 185.6 in. (471 cm) | Width: 72.4 in. (184 cm) |
| Height: 56.6 in. (144 cm) | Wheel Base: 106.6 in. (270.5 cm) |
| Curb Weight: 3400 lbs (1542 kg) | Ground Clearance: 5.9 in. (15 cm) |
| Luggage Capacity: 14 cu ft | Maximum Seating: 5 people |
Performance

| | |
| --- | --- |
| Engine: DOHC i-VTEC® in-line 4 | Displacement: 2.4-liter |
| Horsepower: 201 HP | Max RPM: 7000 RPM |
| Torque: 170 lb-ft @ 4300 rpm | Transmission: 5-Speed Automatic |
| 0-60 mph: 8.0 seconds | 1/4 Mile: 16.2 seconds |
Available Trims & Engine

| | |
| --- | --- |
| Option:TSX V6 | MSRP: $35,150; MPG: 19 city / 28 hwy |