The 2012 Morgan Aero Coupe was inspired by the GT3 Aero which won many races in its time.
The Morgan Aero Coupe is a new supercar that has been specially designed to be comfortable for long distance driving and touring.
Styling & Interior
It is a 2 seater sports car with an enclosed cockpit with comfortable interiors and especially a large boot to carry luggage securely during long-distance driving. The cockpit has a sensational design that lets one enjoy the high speeds over the long bonnet.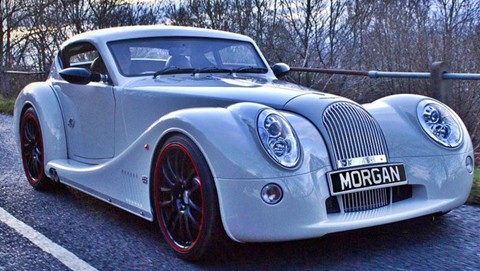 The ash hardwood covers the doors and the surface surrounding the cockpit. There is exquisite double stitch leather work along with suede that gives a sporty and luxurious look to the interiors and the controls. The reclining seats are comfortable and give the driver a panoramic view of the car, the controls, and the road ahead.
The standard audio system that comes along with the car has a crisp sound. The Morgan Aero Coupe however can be personally customized according to individual preferences.
Engine & Performance
In terms of performance the Morgan Aero Coupe is a breeze to drive. The rear view mirror makes it very easy to reverse, park and maneuver. It comes equipped with a BMW V8, with either a 6 speed automatic or manual transmission that can be run in "Auto" or "Sport" modes and achieves a top speed of 170 mph with powerful acceleration that goes from 0-62 mph in a mere 4.5 seconds.
The fuel tank can hold 14.5 gallons (55) liters making it extremely suitable for long distance driving. It is able to achieve 16 mpg in city driving and 32 mpg highway on the manual and improves slightly on the automatic.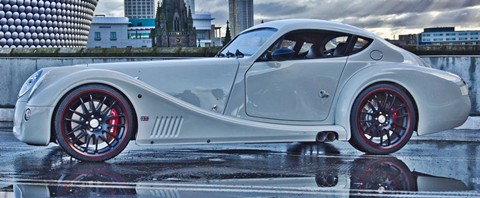 The car itself is made of completely from aluminum and weighs 2601 lbs (1175 kg) making it light and fast.
The 2012 Morgan Aero Coupe sets a new standard for long distance driving pleasure. Go ahead, give it a whirl.
Specifications
General Info

| | |
| --- | --- |
| Vehicle Type: Coupe | Base Price: NA |
| Fuel Tank Capacity: 14.5 gallons (55 liters) | Miles Per Gallon: 17 city / 36 hwy |
Dimensions

| | |
| --- | --- |
| Length: 163.2 in. (414.7 cm) | Wheel Base: NA |
| Height: 49 in. (124.8 cm) | Width: 68.9 in. (175.1 cm) |
| Curb Weight: 2601 lbs (1180 kg) | Ground Clearance: NA |
| Luggage Capacity: NA | Maximum Seating: 2 people |
Performance

| | |
| --- | --- |
| Engine: BMW V8 | Displacement: 4.8 Liter |
| Horsepower: 360 HP | Max RPM: NA |
| Torque: 370 lb-ft | Transmission: 6-Speed Automatic |
| 0-60 mph: 4.2 seconds | Maximum Speed: 170 mph (273 km/h) |