The 2012 Mitsubishi i-MiEV is the only all electric vehicle in the United States. It is environmentally friendly, uses no gasoline and doesn't have an exhaust. It receives its power from a lithium ion battery pack stored beneath the floorboard of the driver.
The design of this subcompact comes with a slightly slanted front, raised rear and higher ground clearance in which you will find ample comfort. Moreover, a rear mounted engine decreases the overall weight and increases the speed and performance capability on the road.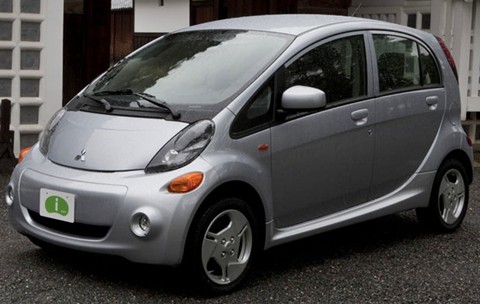 Specifications
General Info

| | |
| --- | --- |
| Vehicle Type: Electric Hatchback | Base Price: $21,625.00 |
| Charge Time: 22 hours | MPG: 126 city / 99 hwy |
Dimensions

| | |
| --- | --- |
| Length: 144.7 in. (367.5 cm) | Wheel Base: 100.4 in. (255 cm) |
| Height: 63.6 in. (161.5 cm) | Width: 62.4 in. (158.5 cm) |
| Curb Weight: 2579 lbs (1169 kg) | Ground Clearance: NA |
| Luggage Capacity: 13.2 cu ft | Maximum Seating: 4 people |
Performance

| | |
| --- | --- |
| Motor: Rear Wheel | Type: AC Sync Magnetic |
| Horsepower: 66 HP | Max RPM: 3000-6000 RPM |
| Torque: 145 lb-ft | Transmission: 1-Speed Automatic |
| 0-60 mph: NA | Maximum Speed: 81 mph (130 km/h) |
Available Trims & Engine

| | |
| --- | --- |
| Option:SE | MSRP: $31,125; MPG: 126 city / 99 hwy |
Engine & Performance
Environmental accountability combined with amazing and intense acceleration, easy starts and stops that don't jar the occupants are some of the attributes offered by this car. Additionally, a taut steering ratio and rear mounted engine allows the driver to turn the steering wheel less to get the car's wheels to respond but also makes it more awkward to maneuver in tight spaces.
Another characteristic of this hatchback is its electric engine and direct drive transmission. It will never use a drop of gasoline so it won't matter how high the cost of gas soars. With a 240 voltage home plug you can charge your car's battery and drive throughout most towns on a single charge so long as your trip is no more than a total of sixty-five miles total.
Also, there is no exhaust pipe. The engine and transmission are strong enough to handle city driving but until there are more charging stations in your town as well as other cities to charge the car's battery you will need to keep your car closer to home.
Interior
The no frills design of the interior creates more room inside the driver and passenger area offering plenty of head and leg room for four adults to ride comfortably. Fewer amenities inside the cockpit of the car decrease the overall weight of this compact which consequently increases the car's range.
Yet the car's dashboard displays a sparse amount of information to the driver. The driver is able to see the battery life indicator, the Eco information telling how economically friendly the car is. A monitor shows you: what gear you're in, which fades in sunlight, a speedometer, and an odometer are the last two features offered in this model.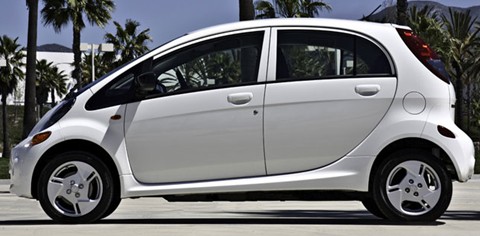 Leg room for the driver can be uncomfortable. This is especially true for tall drivers. This is most likely due to the raised floorboards that accommodate the lithium ion battery pack that powers the car.
Serious environmentally concerned individuals will want to know a lot more. The majority of individuals that have test driven the car are satisfied with the car's overall design, appearance and functionality but still want more state of the art inside technology which is currently not available.
Exterior
The outside design of the car is sleek with a slanted and slightly lower front end. It comes with four doors, power windows and power locking doors.
Safety
With six air bags, a lighter design with tighter steering, braking power, traction and stability control, you have complete control at your fingertips. Overall the 2012 Mitsubishi i is an affordable auto costing only about twenty thousand after federal rebate. Depending on your state, you could receive even more rebates further cutting the cost of the car.
All in all, the subcompact hatchback offers a fair amount of perks and in the long run will save not only our environment but also money. It can be an excellent commuter car for a high school or college student, trips to the grocery store or jaunts to run the kids to their sports events or other after school activities.
With all the refunds a person could get, the savings you get from not using gasoline and adequate passenger and cargo space it is definitetly worth parking in your driveway.
The Mitsubishi i, compared to other vehicles costs less, compared to the plug in hybrids such as the Toyota Prius (MSRP $18,950; 53 city / 46 hwy) and the high-priced Chevrolet Volt (MSRP $39,145). Other hybrids such as the Kia Optima (MSRP $25,700; 35 city / 40 hwy), the Mitsubishi i fails to offer enough detail to economic driving information as its environmentally friendly contenders do.
The Nissan Leaf (MSRP $35,200; 99 city / 92 hwy) is the only other Electric vehicle that can be equally compared to the i-MiEV.
Overall Rating


67 out of 100
What others say:
"While other electric cars have introduced complicated interfaces, as well as more range tools and eco-driving coaches than you might want or need, Mitsubishi has kept is remarkably simple with the i."Car Connection
"Steering feel is light and fairly quick, and the i's short overall length and tight turning radius make it very maneuverable. Body lean is well controlled, but the narrow tires quickly become taxed in fast turns."Consumer Guide
"On sale in select states in 2012 and nationwide in 2013, the 2012 Mitsubishi i is the most fuel-efficient mass-production vehicle money can buy for under $30k. Make that closer to $21,500 if you qualify for a $7,500 federal tax credit."KBB
"Excellent all-electric efficiency; affordable price; typically cheaper to power than gas-only models; crisp acceleration; quiet cabin…Shorter range than rivals; low-quality interior; tight cargo capacity for a hatchback; limited in-cabin storage."Edmunds