Only months after launching the new Mini, the premium British car company has added a new model to the Mini range, and it has a very different body that is a first in the history of the Mini Cooper, the 2015 Mini Cooper 5 Door.
The wheelbase has been lengthened, the body has also been made longer than the 3-door Mini. This new five door model gives you more freedom with what you can do with the interior.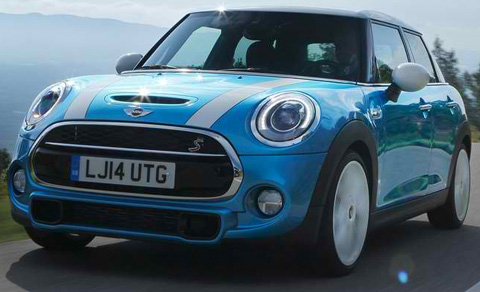 Engine
You can select from four different turbo engines, with Mini TwinPower Technology. These include the petrol-powered 3 cylinder engine that has an output of 136 horsepower (100 kW) in the Mini Cooper; a 4 cylinder engine is in the Cooper S, with 192 horsepower (141 kW).
The Mini D 5-door has a diesel-powered 3 cylinder engine with 116 horsepower (85 kW) and the Mini Cooper SD comes with a 2.0 liter diesel powered, 4 cylinder, giving you 170 horsepower (125 kW). Each one of these models meets EU6 emissions standards.
Interior
While the people riding inside the Mini Cooper 5-door can enjoy more space, the compartment for luggage has been improved as well, with 9.8 cu ft (278 liters) of space more than the traditional 3-door model.
The luggage compartment can be improved even more, as the folding split in the rear backrests allows it to increase to33.2 cu ft (941 liters).
There are three seats in the back, and the passengers who sit here will enjoy slightly more head-space, as well as increased elbow room, due to the added width.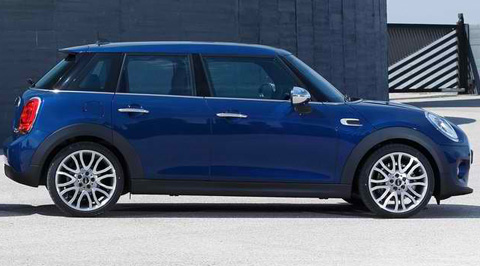 Economy
This new series of Mini has been built to give a unique balance between fuel economy and driving pleasure.
The fuel-efficiency technology, the manual 6-speed transmission, and the Steptronic 6-speed transmission, support this goal.
Highly Advanced System
The instrument system of the 5 door Mini is designed to give complete control and interaction between vehicle and driver. It depends on the fittings, but the center has a TFT display with 4 lines, or an 8.8 inch color screen.
Either of these displays gives the driver feedback on the various functions, the communication and infotainment system, the navigational system, with directions and maps, and the specialized graphics for the connected services.