Mercedes is preparing a new Hybrid for their upcoming lineup over the next two years. The 2015 Mercedes-Benz S500 Plug-in Hybrid is the third and final eco-friendly model of the S class generation.
Set for release in 2014, the new hybrid comes with technological improvements, making it their most fuel efficient car and the most versatile out of the 3 different models available.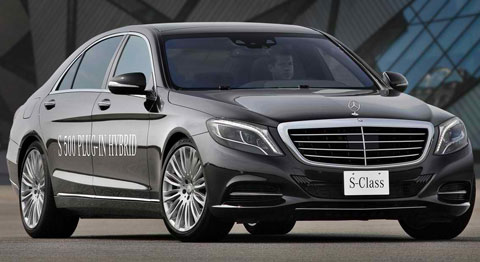 Specifications
General Info

| | |
| --- | --- |
| Vehicle Type: Luxury Sedan Hybrid | Base Price: NA |
| EV Mode Range: 19 miles | MPGe for EV Mode: 94 miles avg |
Performance

| | |
| --- | --- |
| Engine: V6 Turbo Hybrid | Displacement: 3.0 Liter |
| Horsepower: 328 HP | Torque: 355 lb-ft |
| Motor Horsepower: 107 HP | Motor Torque: 252 lb-ft |
| 0-62 mph: 5.5 seconds | Maximum Speed: 155 mph (250 km/h) |
Engine
Mercedes went for a 3.0 liter V6 gas engine coupled with an electric motor. Unlike the other two hybrids, the driver can switch between electric-only, hybrid, power saver and gas-only modes.
When combined, the two engines produce 435 horsepower and an average fuel consumption below the other two models. This up and coming Plug-In Hybrid goes from 0 to 60 mph in 5.5 seconds and has a limited top speed of 155 miles per hour.
Performance
The S500 is a heavy car. It provides decent road grip and stability but it was design for comfort rather than enhanced handling at high speeds. The hybrid behaves above the average during tight cornering and in difficult weather conditions.
Designed for efficiency and versatility, the 2015 S500 Hybrid will run 18.5 miles exclusively on the electric motor before needing a recharge.

Using the hybrid mode provides an average run of 94 miles per gallon which makes it the most fuel efficient model out of the three available for next year's lineup.
Exterior
The design of the car is common for the S Class, making it difficult to distinguish it from the gas models. However, there are a few visual changes to the front of the S500.
The front grill is larger, while the headlights have been toned down giving it a wider front profile. It reinforces the overall design, accentuating the elements that make it an executive sedan.
Interior
From the inside, the S500 looks fairly futuristic. All the gauges, menus, controls and monitoring displays are located through a high resolution LED screen. The only physical buttons that can be seen are placed on the doors and right beneath the air vents.
Throughout the entire interior of the car, decorative chromed elements have been added creating a contrast with the overall black theme.