The 2013 New York International Auto Show was chosen by Mercedes Benz to showcase their upcoming electric car. Running completely petrol free, the 2015 Mercedes-Benz B-Class Electric Drive focuses on zero emissions.
It also comes with a network of provided services amongst other features that make it a viable replacement for a gas powered or hybrid vehicle.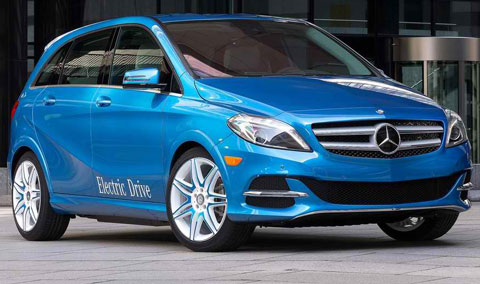 Specifications
General Info

| | |
| --- | --- |
| Vehicle Type: Electric | Base Price: NA |
| Battery: 28 kWh Lithium Ion | Range on Full Charge: 115 miles |
Dimensions**

| | |
| --- | --- |
| Length: 171.6 in. (435.9 cm) | Wheel Base: 106.3 in. (269.9 cm) |
| Height: 61.3 in. (155.7 cm) | Width: 79.1 in. (201 cm) |
| Luggage Capacity: NA | Maximum Seating: 5 people |
Performance

| | |
| --- | --- |
| Power source: 100 kW – 240 Volt/40 Amp | Charge Time: 4 hours (full) |
| Horsepower: 135 HP | Torque: 228 lb-ft |
| 0-60 mph: 10 seconds | Maximum Speed: NA |
** Based on gas powered B-Class
Motor
The car will be powered by a 100 kw electric motor, capable of generating a torque of 229 lb ft which is the equivalent of a 3.0 liter petrol engine which makes it possible to get from 0 to 60 MPH in less than 10 seconds.
A standard power plug in can charge the batteries in 4 hours which gives you a range of 115 miles.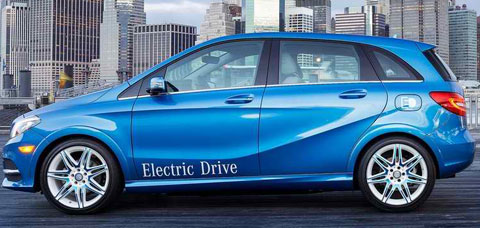 Performance
Driving experience of a fully electric Mercedes is not different from any of their other models. The lightweight engine is compensated by the battery pack which adds some weight in the rear.
With a set of aerodynamic concepts, balanced weight, the downforce, and road grip makes it easy to control and drive for both short and long distances.
Exterior
The design of the e-car focuses on building a dynamic vehicle with sporty elements.
Looking at the front of the electric B-Class, Mercedes includes the trademark grill as one of the key visual elements, it comes with extended lights that crossover to the side. The rear lights have the same extended light design, placed under the wide rear window.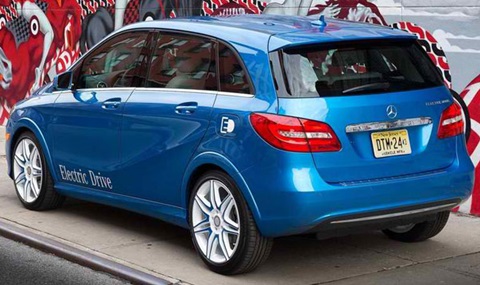 Interior
Even if the electric B-Class is dependent on energy storage for its engine, the battery placement beneath the seats save interior space. The gauges can be found in their traditional position while vents have been placed between the driver and the passenger above the central panel.
Mercedes designed the interior with the same attention to detail and high quality finishing as any of their other models from the same class.
The 2015 Mercedes-Benz B-Class Electric Drive has what it takes to compete with gas powered vehicles. The powerful electric motor and battery pack allows you to get around town with sufficient range, up to 115 miles on a full charge.