Launched in 2010, the Mercedes-Benz SLS series has been tackled with by multiple car tuning companies.
The German company mcchip-dkr recently released their upgrade kit in the 2013 mcchip-dkr Mercedes-Benz SLS 63 AMG MC700, boosting its horsepower without changes to the exterior.
Their performance enhancing pack includes various exhaust tweaks, a compressor, and other minor changes.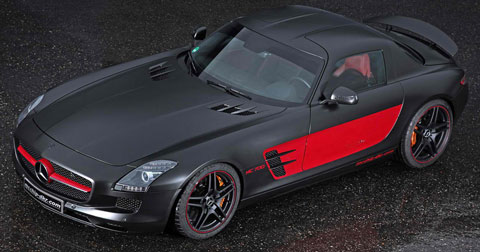 Specifications
General Info

| | |
| --- | --- |
| Vehicle Type: Sport Coupe | Est. Market Price: $106,649.00 |
| Fuel Tank Capacity: 22.5 gals (85 L) | MPG: NA |
Dimensions*

| | |
| --- | --- |
| Length: 182.6 in. (463.8 cm) | Wheelbase: 105.5 in. (268 cm) |
| Height: 49.3 in. (125.2 cm) | Width: 76.3 in. (193.9 cm) |
| Curb Weight: 3573 lbs (1621 kg) | Ground Clearance: NA |
| Luggage Capacity: 6.2 cu ft | Maximum Seating: 2 |
Performance

| | |
| --- | --- |
| Engine: 6.2 liter V8 Supercharger | Horsepower: 706 HP |
| Torque: 585 lb-ft | Transmission: 7-Speed AMG Speedshift DCT |
* 2010 Mercedes Benz SLS AMG base specs
Engine
The performance upgrade of the car was done in two stages. mcchip-dkr's engineers first installed the new MC700 pure compressor and a stage 3 software upgrade.
A high-end exhaust system has also been added which, when combined with the compressor, allows for a performance boost that takes the 6.2 liter V8 engine to reach a total 680 horsepower.

The second stage of the upgrade involves additional sports catalyzer's and a stage 4 software upgrade, adding an extra 26 horsepower, giving it a total maximum of 706 horsepower.
The transmission remains untouched, being controlled by the standard 7-speed dual-clutch semi-automatic gearbox.
Performance
The added power boost does not significantly affect the driving and handling feel. Steering is just as crisp and responsive as ever. With enough road grip, the rear of the car reduces slips at tight corners at high speeds.
Exterior
The presentation model for the performance kit did not include any exterior changes. mcchip-dkr used the swing door version to test their upgrade pack.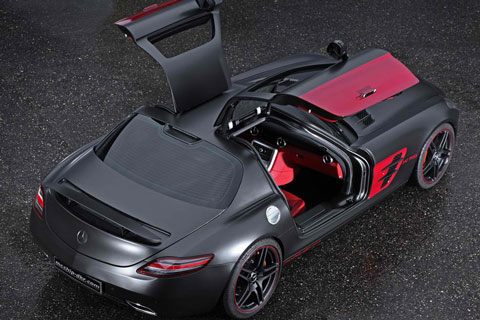 Interior
Just like with the exterior, no changes were done to the interior. The Mercedes-Benz SLS 63 AMG MC700 features stock interior options.
mcchip-dkr offers the two stages of the upgrade kits separately. Customers can purchase the first one and skip to the second or get them both and get the maximum possible 706 HP from the German tuner's performance-enhancing package.
With no changes done to the exterior and the interior, the upgraded version of the SLS AMG looks no different. It is only when the engine of the car is turned on, that the upgrade is obvious.