The Geneva Motor show was recently the stage for a unique and innovative vehicle. The 2013 Carlsson Mercedes-Benz SLK 340 is one of the newest installments in high performance race cars. Based on the SLK, this hill climb racer comes fully equipped with upgraded features, extreme power and a safety design.
The healthy media buzz is well deserved as Carlsson has upped the ante on their new sports machine.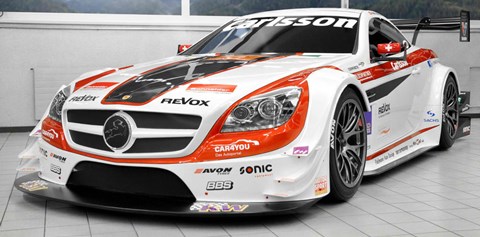 Specifications
General Info

| | |
| --- | --- |
| Vehicle Type: Coupe Racer | Base Price: NA |
Performance

| | |
| --- | --- |
| Engine: V8 DOHC | Displacement: 3.4 Liter |
| Horsepower: 610 HP | Torque: 317 lb-ft |
| Transmission: Hewland Paddle shifter | Weight: 1720 lbs (780 kgs) |
Engine
In addition to the upgrade, Carlsson has made alterations to the performance components of the SLK 340. With state of the art power systems, the SLK 340 comes equipped with a 3.4 liter V8 engine. This gives life to 610 horsepower with an ultimate torque of 318 lb ft. As a novice in the world of motor sports, there is a lot to prove. The Hewland transmission, KW competition suspension, and BBS racing wheels give this sports car extreme road control and handling.
Performance
The super lightweight components represent the hundreds of hours spent by engineers and designers. The newly designed brake system uses modern materials installed by engineers that ensure the vehicle is not weighed down by the heavy components. The AVON racing wheels are top notch in the field of tires.



Modifications
Expert engineers have utilized advance technology to make the SLK 340 light weight. A mere 780 kg gives this race car a stream lined appearance and ability to perform at top speeds. The reconstructed body is made from the most up to date materials to help give it its slim casing. The carbon body and aerodynamic design give the vehicle advanced control and down force – making it a top contender in hill climb racing.
Safety Upgrades
The SLK 340 is not only a super powered machine, but an example of how high performance and safety can go hand and hand. Carlsson designed the racing seats for lateral support. In addition, a very intricate safety cage has been installed and is in accordance with the international racing guidelines.
The international racing community is extremely excited to welcome this technologically savvy sports touring vehicle to the world. The advanced features, powerful system and safety components are likely to make this car a winner. The 2013 Carlsson Mercedes-Benz SLK 340 will be one to watch in the upcoming hill racing season.