The past few weeks have seen the emergence of a strikingly new vehicle.
Carlsson has unveiled the 2013 Mercedes-Benz CML Royale Revox.
A fresh take on the luxury SUV, this Mercedes is full of amped up features, upgraded performance capabilities and complimented by an impeccable interior design.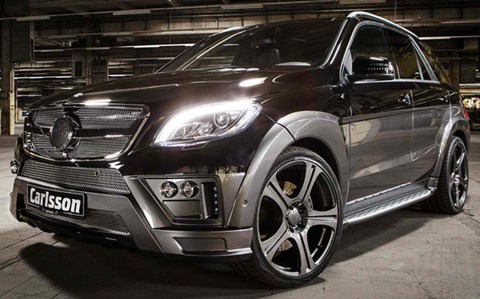 Specifications
General Info

| | |
| --- | --- |
| Vehicle Type: SUV | Base Price: NA |
Performance

| | |
| --- | --- |
| Engine: V8 DOHC | Displacement: 5.5 Liter |
| Horsepower: 625 HP | Torque: 620 lb-ft |
| 0-60 mph: 4.4 seconds | Maximum Speed: 186 mph (299 km/h) |
Engine
In addition to the unique features, Carlsson has made many upgrades to the performance aspect of this vehicle. With improved power, the Mercedes-Benz CML Royale-Revox offers its drivers up to 625 horsepower and 622 lb-ft of pure torque.
This allows for improved acceleration at top speeds and a secure handling not seen by luxury SUVs in its class. The base model has an electronically controlled speedometer which simply reaches 168 miles per hour, compared to this Carlsson offering, 186 mph.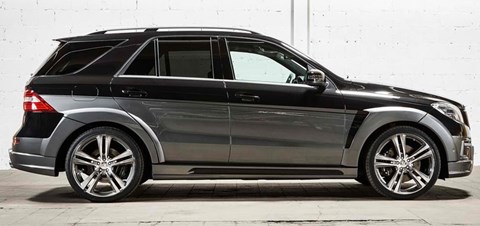 Performance
The vehicle has also been reformatted and lowered, which makes for better handling. The CML uses C-Tronic intelligent suspension system to increase control and comfort. Mercedes has also equipped the CML with 22 inch alloy wheels to help balance the weight of the vehicle and make tackling uneven roads a simple task.
Luxury Interior
The Carlsson Mercedes-Benz CML Royale Revox does not disappoint in the interior department. Carlsson's Signature Line of handcrafted upholstery is seen all throughout the vehicle. With its dark grey and black color scheme and incredibly soft Nappa leather standard, the level of luxury is top tier. In addition, this unique and custom interior includes a woven pattern that is applied to everything from the floor mats to the ceiling. This gives the CML a distinctive look that is all its own.
Unique Features
There is no shortage of special features and upgrades for the CML. Its innovative aerodynamic design gives the SUV a sleek and sophisticated appearance. However, the front spoiler, wider arches and chrome plated grille will also greatly satisfy those that wish for a sporty look.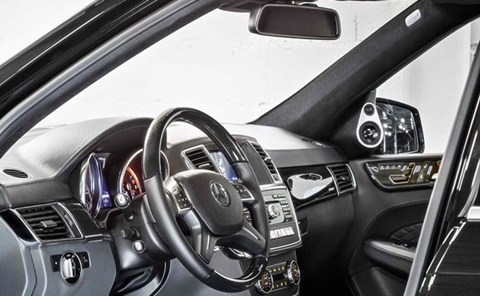 The iconic horse symbol in the front of the vehicle is illuminated by an LED daytime running lamp that come standard. In addition, there are extra driving lights that increase safety and rear cut outs that improve the overall appearance of the vehicle. The safety and appearance elements are also balanced with smooth sounds from the state of the art Revox sound system.
The 2013 Carlsson Mercedes-Benz CML Royale Revox is a luxury SUV that raises the bar in features, performance and interior design. From sleek lines, to super powered engines and custom crafted upholstery, the CML left no stone unturned as it offers the driver the optimal driving experience.