Mazda, with their Zoom-Zoom ethos, has always sought for ways to improve their technology. And during the 2011 Tokyo Motor Show, that ethos was in full effect with their theme "Environmental Technology, Pushing the boundaries of the emotion of motion".
With their new concept, the 2011 Mazda Takeri, they are integrating their new style concept into the sedan.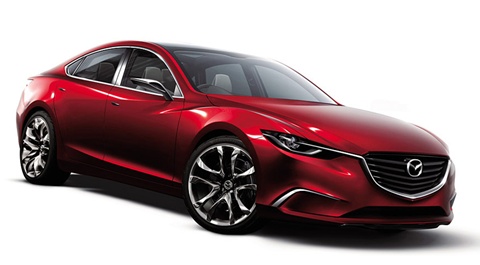 Design
The Takeri employs Mazda's new design language: Soul of Motion. This imparts sharpness that can only be seen on a few cars outside Mazda. True to its design language, they have managed to create a sedan that has a strong beauty and identity. Not only that, this body is both lightweight and aerodynamic, enhancing both performance and efficiency.
Technology
But don't think for a second that this car is just for style, as this car has an abundance of substance too. It employs a lot of Mazda's new SKYACTIV technology. The SKYACTIV-D engine, a new diesel engine, provides more than adequate performance, fuel efficiency, and smoothness for the Takeri.
Performance
But Mazda did not stop there, to deliver maximum efficiency new technologies are used to further improve this engine's fuel efficiency potential. Regenerative braking converts kinetic energy produced from braking into electricity used to power the car's electrical system. Together with an idling stop system, these electronic gadgets allow for optimal fuel economy.

The 2011 Mazda Takeri concept car was able to create a bold statement. If this is the sign of things to come for Mazda, we can expect some really unique and efficient vehicles in the not so distant future.
Specifications
Dimensions

| | |
| --- | --- |
| Length: 178.7 in. (454 cm) | Wheel Base: 106.3 in. (270 cm) |
| Height: 67.1 in. (170.5 cm) | Width: 72.4 in. (184 cm) |
| Curb Weight: 2433 lbs (1440 kg) | Ground Clearance: NA |
| Luggage Capacity: 150 cu ft | Maximum Seating: 4 people |
Performance

| | |
| --- | --- |
| Engine: SkyActiv G 2.0 | Displacement: 1997 cc |
| Horsepower: 153 HP | Max RPM: 6000 RPM |
| Torque: 262 lb-ft @ 4000 rpm | Transmission: 6-Speed Automatic |