The 2004 Brabus Maybach 57 is a high performance four door luxury car.
The Brabus Maybach 57 features a 6.3 L Twin-Turbo V12 engine with a capacity of 6300 cc. The engine delivers an output power of 640 bhp at 5100 rpm and 757 lb-ft torque at 1750 rpm. The Brabus Maybach 57 reaches the speed of 60 mph in 4.8 seconds and the top speed is about 186 mph. The Brabus Maybach 57 features five speed automatic transmission and the gear shifts can be performed easily at higher speeds and loads.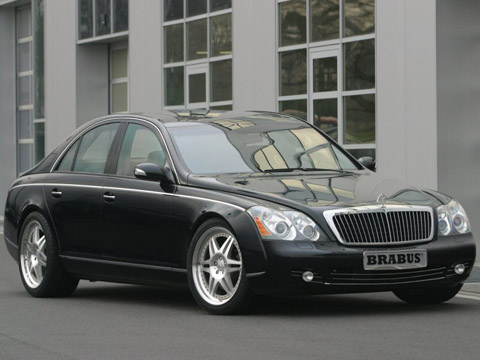 The Brabus Maybach 57 consists of engine electronics, camshafts and an exhaust system. The front suspension reduces the cars height by 15 millimeters and gives a comfortable driving experience.
The Brabus Maybach 57 features 21-inch Monoblock six double spoke light-alloy wheels. These wheels are wrapped with Dunlop tires for better handling, grip, the front tires measure 285/40 ZR and the rear wheels measure with 325/35 ZR.
The exteriors feature the stylish auxiliary headlights. The interiors feature the 6-disc DVD changer, 16:9 color monitors, 80 GB hard drive which is connected to a internet that is 1.5 times faster than normal internet. Also the interiors feature wireless mouse and keyboard, IBM X-series notebook, USB port and the leather seats.
Specifications
Vehicle Type: 4-door luxury car
Configuration: Front Engine
Engine: 6.3 L Twin-Turbo V12
Capacity: 6300 cc
Power: 640 bhp at 5100 rpm
Torque: 757 lb-ft at 1750 rpm
Transmission: 5-Speed Automatic
0-60: 4.8 sec
Top speed: 186 mph