The 2012 Lotus Evora GX is another sports car from this storied British manufacturer. At heart it is intended for the race track.
This is a modified version of the already fast Evora, but it is also available in street-legal trim – if you have $335,000 to spare.
The Evora's already striking and distinctive looks have been enhanced for the GX model by the liberal use of carbon fiber – in particular for the doors, which are entirely made from that material.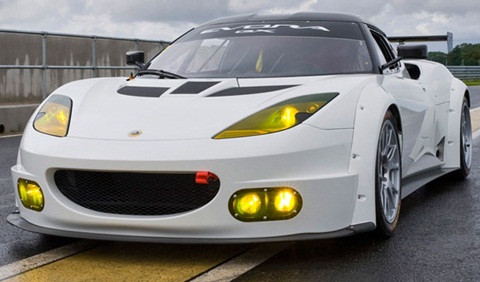 Specifications
General Info

| | |
| --- | --- |
| Vehicle Type: Super Sport Coupe | Est. Market Price: $335,000.00 |
Performance

| | |
| --- | --- |
| Engine: V6 DOHC | Displacement: 4.0 Liter |
| Horsepower: 440 HP | Torque: 325 lb-ft |
| Transmission: 6-Speed Xtronic | Curb Weight: 2535 lbs (4536 kg) |
Engine & Performance
The Evora GX is powered by a four-liter, V6 gasoline engine which pumps out 440 horsepower and 325 lb ft of torque. Although Lotus has not officially published data regarding the car's top speed, most testers expect it to be somewhere in the region of around 180 mph – a substantial improvement on the standard car's 162 mph, despite a slightly higher curb weight.
Unsurprisingly, handling is extremely firm and sharp, with the engine supported by an X-track sequential gearbox. Cornering ability produce benefits from the race-spec aero kit and race-ready Continental tires.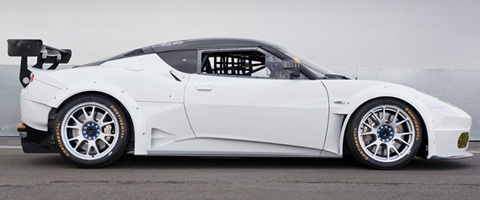 Equipment
Being a race car at heart, the Evora GX does away with several creature comforts most road cars now offer. There is no traction control, for example, and nor are ABS brakes fitted. Inside, the cabin is uncompromisingly utilitarian, with most of the fairly luxurious equipment fitted to the standard model having been stripped out.
Seats are of the basic bucket type, roll bars have been fitted in order to conform to race series safety requirements, and even the steering wheel is intended first and foremost for use on the track.
Appearance
While the large rear wing is the most visually obvious difference from the standard car, more subtle changes also add to the GX's purposeful appearance – the headlights are now tinted, while the windows are made of strengthened plexi-glass.