The Evora has been talked about in the sports car market as currently the world's only mid-engine 2+2. The Evora is fueled by a Lotus-tuned 3.5-litre V6 engine producing 280 PS, and weighing 1350 kg. The Evora has been promised to its buyers a breathtaking performance, during preliminary runs at the renowned Nurburgring, the Lotus chassis engineers' reports that the Evora is extremely agile and a fun car to drive.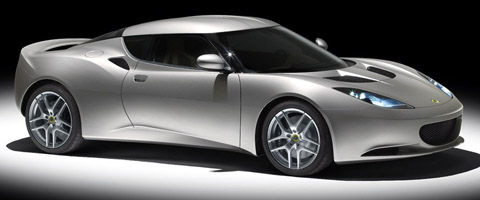 Besides its excellent performance, the Evora can offer a more refined experience than the Lotus's existing small four-cylinder models. It features advanced touch-screen multi-media system and electric power-fold door mirrors. The purpose of the Evora is to attract new customers to its Lotus brand, much attention has been looked at its easy usage of its accessories.
The Evora will have a limited production in England of approximately 2000 cars a year, ensuring that this car will have a rare and exclusive look. On the interior, many basic designs such as more smoother and rare quality of leather to the seats have been added for more comfort. Also, high-tech gadgets has been added such as a 7 inch touch-screen, advanced audio, satellite navigation, video, and Bluetooth hands-free telephone and iPod functions.
Reaching 0-60 mph is a problem for this car at a sub 5 seconds, and maximum speed of 160 mph. Overall, this car can provide for most people inside and out, or on the road.