The Lotus Cars Ltd, has unleashed the MY2009 Exige Cup 260. A direct development of the 2008 Exige Cup Car, this year's car uses an advanced light weight component and carbon fibre body material, to reduce the overall weight by just 38 kg to a total mass of 900 kg. Maximum power output on this car is 257 hp, remaining the same as the 2008 car, but with a careful weight reduction detail.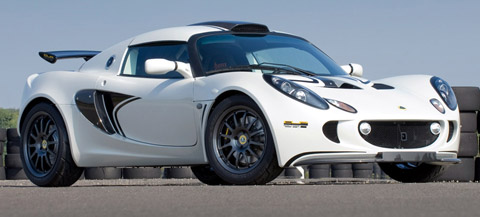 The My2009 Exige Cup 260 weighs at just 890 kg, giving a impressive power to weight ratio of 288 hp / tonne. The Exige Cup 260 has been on the formidable list of standard performance focused equipment. The Exige Cup 260 is one of the fastest cars around a circuit. The key focus to this incredible performance is the aerodynamic package, which produces 40 kg of downforce at 160 kmh increasing the grip and stability at higher speeds.
This monster car can achieve 0-60 mph in less than 4 seconds flat and top speeds of 152 mph. The MY2009 Exige Cup 260 is the perfect car for a serious racer. The supercharged and intercooler engine in the Exige Cup 260 has a maximum power output of 260 PS (257 hp) at 8000 rpm and a torque figure of 236 Nm (174 lbft) at 6000 rpm.