The 2014 Lincoln MKX Concept was unveiled at the 2014 Beijing Auto Show earlier this year.
The company intends for the car to be part of a new range of Lincolns to be produced over the next two years.
This marks a shift in emphasis by Lincoln and a concerted effort to capture global SUV markets, including in parts of the world where the brand has not previously been active.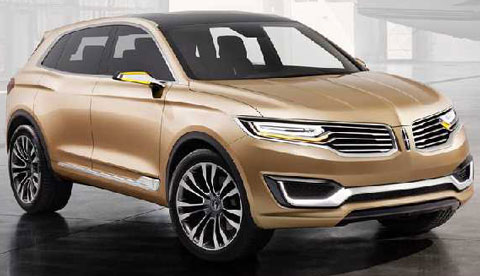 Engine & Performance
Lincoln has not released information about the Concept's engine options. Many industry experts expect production versions to boast an EcoBoost engine, however. All-wheel drive is also considered to be highly likely.
Power output is likely to be sufficient for highly responsive performance, but details remain unknown.
The MKX Concept is intended to be a sporty SUV, and as such it sports 21-inch aluminum alloy wheels for better handling.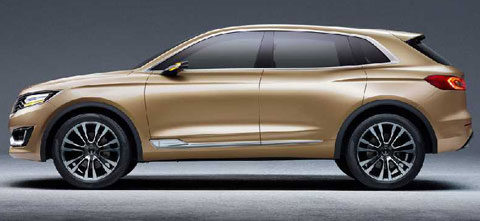 Exterior
Most of the talk since the unveiling has been about the car's appearance. The most obvious features are the very large turn signals, which not only run right around the headlights but also extend as far as the car's side mirrors.
A good deal of care has been taken with the car's lighting, with plenty of strong accents and a focus on the use of high power LED illumination. The vehicle's rear profile has been designed to be somewhat imposing, with a gentler look to the "waistline" of the car that runs beneath the side windows.
There is also a lowered roof toward the rear to give the MKX a better aerodynamic profile.
Interior
The windows of the MKX Concept are made of panoramic glass, allowing for the maximum possible amount of light into the interior. Meanwhile, a rear spoiler and integrated roof racks add to the overall impression of an integrated whole.
Inside, the Lincoln Experiences program will allow owners to tailor their vehicles to their precise needs. Options available will range from the type of entertainment system to cabin trim levels.
Other features
The MKX Concept has been designed for a more global market; this is the first Lincoln to have received a show debut outside the United States. The company has stated that inspiration for the car's striking design was obtained from a variety of vehicles, including motorcycles and even airplanes.
Although this is a concept car, Lincoln has hinted that many styling cues may survive into production.