The 2014 Lexus IS F Sport is a lavish sports sedan that is sure to captivate the attention of enthusiasts throughout the world. This exquisite model features the familiar "spindle grille" logo with redesigned and newly-improved details.
Moreover, the sports sedan is loaded with outstanding features, functionality and unique design that gives it a classic appeal.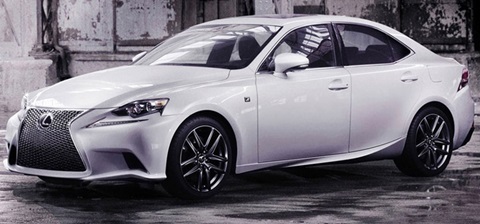 Engine
The IS-F comes with your choice of either all-wheel drive or rear-wheel drive. The IS 250 comes with a V6 2.5 liter engine, while the IS350 has V6 3.5 liter offering. A few countries, like Japan and parts of Europe will see the IS300h hybrid version which comes with a 2.5 liter Hybrid Drive motor.
This IS gives you four switchable modes; ECO, Normal, Sport, and the Sport S. The IS350 highlights an 8-speed automatic transmission, also known as the SPDS, or the Sport Direct Shift.
Highlights
At first glance, the Lexus IS F Sport won't fail to impress anyone with an eye for luxury cars and classic detailing. For instance, the sports car comes with remarkable head and tail light design, as well as the swoosh-shaped fog lights. It also boasts of the modified bumper that features four air inlets for improved aerodynamics.
The IS F Sport by Lexus is equipped with an 8-speed auto transmission with innovative paddle shifters, unique to the IS350. Other features of the car include the electric power steering, which is tuned perfectly for the F Sport. The adaptive-variable suspension system and 18-inch black wheels comes with the popular Y-design that is found in the Lexus LFA.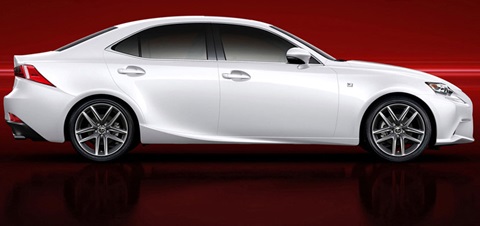 Interior
This Lexus model stands out from the rest because of the new design and added enhancements added to it. The interior is as breathtaking as the outer features of the car, each part is crafted from high quality materials that give the IS-F a distinct look.
Among the lavish components found, included are the spacious and comfortable rear seats, roomy trunk, focused and state-of-the-art driver's environment. In addition, the car has an all-new and innovative multimedia system, subscription-free weather and traffic information (real-time reports), power-adjustable sport seating, and easy connection to your preferred mobile applications.
Aside from the jaw-dropping interior and exterior appearance, the Lexus IS F Sport is certain to be a head turner, consistently reliable, precise response to the driver's input, and superb feedback. All these features add up to the car's versatility, functionality and classic elegance.