The 2012 Lexus LS Hybrid remains as one of the most advanced hybrid cars in the market with its powerful engine and luxurious interiors. However, it also remains one of the most expensive in its class.
And now that other car manufacturers have hit the streets with their more fuel efficient and more affordable hybrid models, Lexus truly has some catching up to do. If your heart is set on Lexus, you can never go wrong.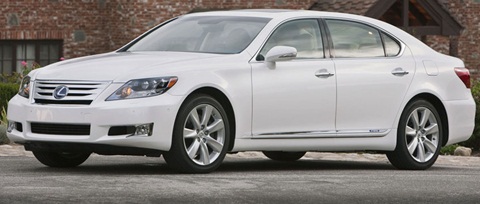 Specifications
General Info

| | |
| --- | --- |
| Vehicle Type: Luxury Hybrid Sedan | Base Price: $112,750.00 |
| Fuel Tank Capacity: 22.2 gallons (37854 liters) | MPG: 19 city / 23 hwy |
Dimensions

| | |
| --- | --- |
| Length: 203.9 in. (518 cm) | Wheel Base: 121.7 in. (309 cm) |
| Height: 58.3 in. (148 cm) | Width: 73.8 in. (187.5 cm) |
| Curb Weight: 5203 lbs (2360 kg) | Ground Clearance: 5.3 in. (254 cm) |
| Luggage Capacity: 10.1 cu ft | Maximum Seating: 5 people |
Performance

| | |
| --- | --- |
| Engine: 5.0L V8 DOHC Hybrid | Compression Ratio: 11.8: 1 |
| Horsepower: 438 HP | Max RPM: 6400 RPM |
| Torque: 385 lb-ft @ 4000 rpm | Transmission: AWD ECV-t |
| 0-60 mph: 5.5 seconds | Maximum Speed: 130 mph (209 km/h) |
Engine
The Lexus LS Hybrid comes with a 5.0L V8 engine paired with two electric motors. This trio delivers an outstanding 439 horsepower and 308 lbs/ft of torque. It overpowers the non-hybrid LS (380 HP) as well as the S Class Hybrid from Mercedes Benz (295 HP) but is toppled by the 7 Series Hybrid from BMW (455 HP).
Despite the muscle component that the LS Hybrid provides, there are car owners that think that the car cannot keep up with other contenders.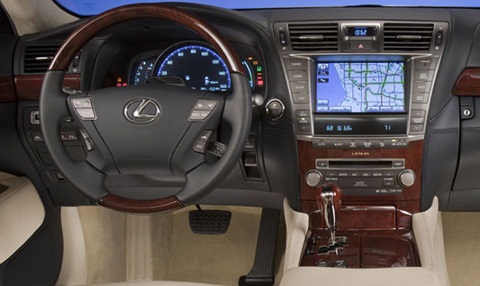 Performance
The LS Hybrid accelerates quietly with minimum effort. The shift in power between gas and electricity is barely noticeable, thanks to its excellent transmission. The EPA says that the LS Hybrid has a fuel consumption rating of mpg 23 highway / 19 city mpg.
These statistics was acceptable years ago, but as the number of hybrid cars with better fuel efficiency grows, this may signal a no to aspiring hybrid owners.
The suspension for the LS Hybrid can absorb the tiniest road imperfections. This is enough for people who go after comfort than sportiness. The LS Hybrid perhaps will not be nimblest in its class as long as the 7 Series Hybrid by BMW is present. But that does not mean that the LS Hybrid does not handle well. It has good handling, only that there is something better.
Exterior
The Lexus LS Hybrid does not go with the flow of modern cars that have organic curves and well pronounced lines to look sporty. The LS Hybrid looks austere and will most likely suit a business oriented individual than a person who loves being casual.
Interior
The cabin provides adequate space for the driver and the passengers. To pamper its occupants more, Lexus used soft grade leather for its interior. It also has a sleek design that many appreciate.
The LS Hybrid remains one of the most comfortable cars to drive. However, it does not offer a lot of cargo space. That is understandable though, because sedans are not primarily designed for hauling and carrying big loads.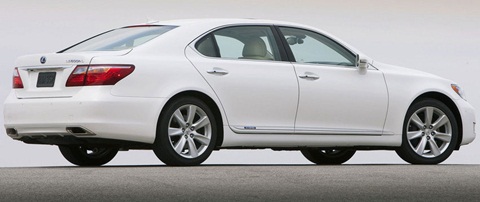 Safety
Because of the cost, super luxury cars are seldom crash tested. The only reference that we can use is the score provided by Insurance Institute for Highway Safety for the non-hybrid LS. It scored "good" in rear and front crash tests.
Reliability
The Lexus LS Hybrid comes with a 4-year standard warranty. During that time, Lexus will provide roadside assistance. There is a separate warranty for the powertrain that lasts up to 70,000 miles or six years. Another 8-year warranty for hybrid parts is provided.
Pros
The Lexus LS Hybrid is comfortable and powerful. No doubt, it remains one of the best in its class.
Cons
There two drawbacks about the LS Hybrid and these are its less fuel consumption and its price.
Verdict
If you find the LS Hybrid exorbitant, there definitely are other choices. But if you want to drive in luxury and you want to have power, still you can never go wrong with the 2012 Lexus LS Hybrid.
Competition
The LS Hybrid competes with the likes of the BMW 7 ActiveHybrid (MSRP $101,895; 17 city / 24 hwy), the Mercedes Benz S Class S400 Hybrid (MSRP $92,725; 19 city / 25 hwy), and the Jaguar XJ XJL (MSRP $92,475; 15 city / 21 hwy).
Overall Rating


85 out of 100
What others say:
"The 2012 Lexus LS 600h L remains the flagship of the largest Lexus luxury sedan line. In a rarefied crowd of eco-conscious rich folks, the low-volume luxury hybrid sedan is also a way to say you're being green while still enjoying the perks of privilege."Car Connection
"The 2012 Lexus LS 600h L falls well short of expectations in terms of both fuel economy and performance. We recommend looking into newer luxury sedans instead, whether hybrid-powered or conventional."Edmunds