The 2012 Lexus LF-LC Concept, a rear-wheel drive, front engine 2+2 hybrid sport coupe, was debuted at the 2012 North American International Auto Show with an eye toward indicating the direction of Lexus for the future.
The overall design concept embodied in the vehicle has its focus on the driver, but with a premium placed on elegance and beauty, futuristic technology, and evocative power.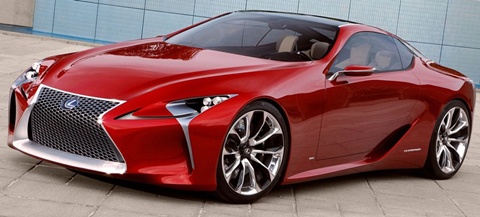 Exterior Design
Starting with the front, designers employed a functional yet distinctive grille using Lexus elements. Using surround aluminum frames, the meshed spindle grille, allows the air intakes nestled in the lower corners give the face of the vehicle a functional air. "L"- shaped running light for daytime use and vertically-oriented fog lamps complete a unique but still-identifiable front-facing presentation.
The sleek glass roof and supports, suggests an open, greenhouse-style design and lends an airy quality to its sumptuous interior. The driver focus is evident here with increased visibility all around the concept car.
In the rear, design elements from the front have been carried over and augmented with inner-lit taillights and fog lamps with the same shape and patterning as the front lamps. The stunning design draws the viewer from the rear of the car to the signature quad exhaust pipe.

Interior & More
On the inside, the Lexus feels both open and secure, with a dual emphasis on high-technology and soft and organic forms and textures. Everything in the interior including the high-sitting console and the enveloping door panels seems to hug the driver and invite a focal point of the road ahead.
The instrument panel includes a touch-screen remote and 2 LCD screens. Using this interface the driver can control navigation tools, the sound system, and heating and cooling. On each door a touch screen allows side control of the seats, windows and mirrors. The front instrumentation is completed by layered displays that suggest a combination of retro analog style and futuristic digital elements.
With leather and metal, suede and wood carefully and artistically employed for finishing and trimming the seats and surfaces, the interior of the 2012 Lexus LF-LC Concept is elegant and advanced, comfortable and sleek, and all Lexus.