The 2012 Lexus HS, after its release was not able to awe hybrid enthusiasts. Having tested it, it is clear that it is not on par with other Lexus cars which are known for their luxury.
And it is not the only area where the 2012 HS was not able to succeed. But like any other car, the 2012 HS deserves a closer look inside and out along the featured highlights that make it attractive.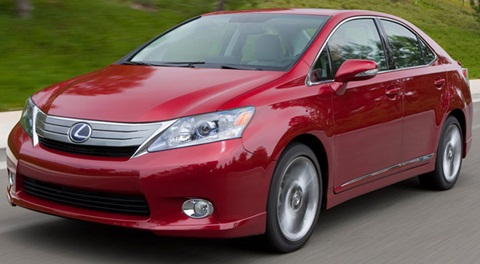 Specifications
General Info

| | |
| --- | --- |
| Vehicle Type: Hybrid Sedan | Base Price: $37,905.00 |
| Fuel Tank Capacity: 14.5 gallons (54.8 liters) | MPG: 35 city / 34 hwy |
Dimensions

| | |
| --- | --- |
| Length: 184.8 in. (469.5 cm) | Wheel Base: 106.3 in. (270 cm) |
| Height: 59.3 in. (150.5 cm) | Width: 70.3 in. (178.5 cm) |
| Curb Weight: 3682 lbs (1770 kg) | Ground Clearance: 6.1 in. (15.4 cm) |
| Luggage Capacity: 12.1 cu ft | Maximum Seating: 5 people |
Performance

| | |
| --- | --- |
| Engine: 2.4L DOHC Hybrid | Compression Ratio: 12.5: 1 |
| Horsepower: 187 HP | Max RPM: 6000 RPM |
| Drive: FWD | Transmission: ECV-t |
| 0-60 mph: 8.4 seconds | Maximum Speed: 112 mph (180 km/h) |
Available Trims & Engine

| | |
| --- | --- |
| Option:250h Premium | MSRP: $40,675; MPG: 35 city / 34 hwy |
Engine
The 2012 HS has a four cylinder inline 2.4 liter engine paired with an electric motor. This combination delivers 187 horsepower. The transmission for the new HS is automatic.According to the EPA, the fuel consumption rating of the new Lexus HS is 35 highway/34 city mpg.
The electric motor greatly contributes to its fuel efficiency because the car can rely on electric power during low speeds.
Performance
The new Lexus HS can run from a standstill to 60 mph in 8.4 seconds. Also, it can accelerate well within the range of 20 to 60 mile per hour range. With these statistics, the Lexus HS is not slow.Credit should go to the combination of the engine and the electric motor.
However, it is not the sportiest car in its class. And although it is lively in its Power mode, it can become sluggish in its Eco mode.The regenerative brakes of the new Lexus HS can be "grabby" in the beginning. But drivers will start forgetting about the sensitivity once they get to drive the car for a while.
Power steering of the new HS is light and sensitive. However, it can get a little boring at times. Being well controlled, the new Lexus HS is ideal for daily commuting around town.
Exterior
The new Lexus HS is available in two trims, the Premium and the base. The base model features a sunroof, 17″ alloy wheels, heater outside mirrors, fog lights, keyless entry and ignition, and rear view mirrors that dim automatically. It also has Bluetooth connectivity, USB and iPod interface, automatic dual zone climate control, satellite radio, and a sound system with 10 speakers.
The Premium model has all the standard features plus upgraded leather upholstery, ventilated and heated front seats, exterior mirrors that are capable of auto-dimming, 18″ alloy wheels, driver memory settings and automatic wipers.
Interior
The 2012 Lexus HS uses thin, eco-friendly materials for its seats. This approach gives the new Lexus HS a new character that is different from its siblings.
The seats are comfortable because they provide enough space.The car also uses bio-plastic. Although most liked the idea of being eco-friendly, Lexus fans may find the use of plastic cheap.

Safety
In the rear impact test conducted by the Insurance Institute for Highway Safety, the new Lexus HS scored "marginal." It scored "acceptable" for the side impact test, and scored "good" in the front crash test. The federal government is yet to test the Lexus HS.
Reliability
The new Lexus HS comes with a 6-year powertrain warranty and a 4-year new car warranty. In the first year of ownership, Lexus provides roadside support. Its hybrid components are covered by a different warranty that lasts for eight years.
Pros
The new Lexus HS is built in excellence. It has a comfortable cabin and high-tech and intuitive equipment. It also has adequate safety features.
Cons
The Lexus HS can become more expensive as you put on upgrades.If you are a Lexus fan, you will find a different character in the new HS. However, those differences are not a major reason for you not to consider the 2012 Lexus HS.
Competition
The small hybrid sedan market has enough room that even Lexus is giving BMW 328i (MSRP $35,795; 23 city / 34 hwy), Infiniti G 37 Journey (MSRP $37,295; 19 city / 27 hwy), and the Acura TSX AT (MSRP $30,905; 22 city / 31 hwy) a good challenge.
Overall Rating

75 out of 100
What others say:
"The 2012 Lexus HS 250h won't win many stop-light drag races, and it's happiest (and most fuel-efficient) under light loads, but it's safe and comfortable regardless."Car Connection
"Body lean is well controlled in fast turns. Steering feels somewhat dead and slow on-center and lacks road feel, but is light for good low-speed maneuverability."Consumer Guide
"Based on the Toyota Avensis, which is sold in markets outside the U.S., the HS hybrid uses the powertrain from the previous Toyota Camry hybrid."MSN Auto-ConsumerReports
"There aren't many premium hybrid sedans to choose from, but the 2012 Lexus HS 250h delivers with a luxurious cabin and thrifty fuel consumption."Edmunds