Lamborghini is a name all too familiar to many of us. Upon hearing the name we immediately think of sleek, handsome, ultimate dream sports cars. The Murcielago range of super cars from Lamborghini has been exceptionally extraordinary and now, Lamborghini is yet to release another on this range but incomparable to his brothers. Even more purist and pushing further extremity is the 2009 Lamborghini Murcielago LP 670-4 SuperVeloce.

Performance
With a 6.5 liter V12 engine, this model is faster, lighter and even more powerful than his older brothers. With that engine, he can produce a 670 horsepower yet weighs only 100 kg. It can accelerate from 0-62 mph in just 3.2 seconds and can go to its top speed of 212 mph. This 350-unit only limited edition from Lamborghini is designed with refinement to ensure that all units sold can deliver its maximum potentials upon first glance.
Exterior & Interior
This car is the ultimate overall performing car of every sports cars enthusiast with its exceptional stability, razor-sharp precision and over the top performance. This super model has been intricately redesigned to set it apart from his Murcielago family. It now has a new front and rear, an engine bonnet that is very much innovative and two aerodynamic set-ups that enables the customer to choose from either a large or small rear spoiler.
As for the interior, this model is made from Alcantara and carbon fiber which exudes a minimalist and purist style. To achieve the super lightweight characteristic of this model, everything was delicately calculated and remodeled from engines, chassis, transmission and interiors. The result of the amended intake system and optimized valve timing is the faster speed of this model from 640 horsepower of earlier models to 670 horsepower. The remodeled and redefined aerodynamics of this model gives it a greater down force increasing stability even at very high speeds. A top speed of 212 mph can be achieved with he small, standard-fit rear spoiler but if the customer chooses the large one, top speed is reduced to 209 mph.
Being a luxury sports car, it comes with a very high price tag. Also, unlike many other sports cars, this model's front seats are very comfortable to rest your butt on and firmly sits suspended. But the bucket seats are more of a pain in the bum and the back after an hour's worth of driving. Turning in corners are very smooth, quick and very stable.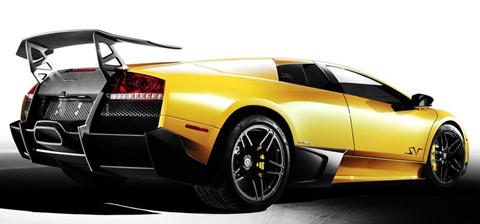 Though many were impressed with this car, there are some aspects of this car that made the customers frown. Lumber support on seats were very minimal; it is not very easy to read the dash's instruments and inelegant as well; the front wheels are very huge making their driving position skewed; and the upper part of the scissor doors rests very close to the occupants head making seating very uncomfortable on longer periods of time.
Overall, though this car may have some flaws, this super car is still the fastest and highest performing from the Lamborghini family. It may not be the fastest super car sold in the market, but with its sexy, sleek design and over the top engine, it is still by far one of the best super cars available.
Specifications
General Info

| | |
| --- | --- |
| Vehicle Type: Coupe | Est. Price: $450,000.00 |
Performance

| | |
| --- | --- |
| Engine: 6.5-liter V12 | Horsepower: 670 HP |
| Transmission: 6-Speed Automatic-Manual | Maximum Seating: 2 people |
| 0-60 mph: 3.2 seconds | Maximum Speed: 212 mph (342 km/h) |