In March, the Lamborghini Veneno was unveiled at the Geneva Motor Show. It received a warm reception. As a result, the roadster version.
The 2014 Lamborghini Veneno Roadster features breathtaking performance with an extreme design making it one of the most exclusive super sports cars of all time. Only nine of these will be made with a price tag of $4.5 million each.
Some of the features the roadster shares with its coupe counterpart include carbon intensive construction, radical styling, a V12 engine and extreme competition-derived aerodynamics. In a nutshell, the Veneno roadster has retained look, sans the roof.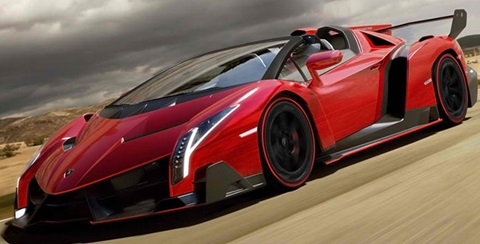 Specifications
General Info

| | |
| --- | --- |
| Vehicle Type: Super Sport Roadster | Base Price: $4,500,000 |
| Engine: V12 DOHC | Displacement: 6.5 Liter |
| Horsepower: 750 HP | Horsepower per Liter: 115 HP/ Liter |
| 0-60 mph: 2.9 seconds | Maximum Speed: 221 mph (355 km/h) |
Engine & Performance
Under the hood, the Lamborghini Veneno Roadster contains the same 6.5 liter, V12 engine found in the Aventador; however, its output has been increased to 750 hp. The Veneno Roadster also has a power to weight ratio of 4.38 pounds/hp that allows it to sprint from 0 to 60 mph in 2.9 secs.
It has a top speed of 221 mph. Finally, the car is fitted with a carbon-ceramic breaking system that reduce break and weight fade.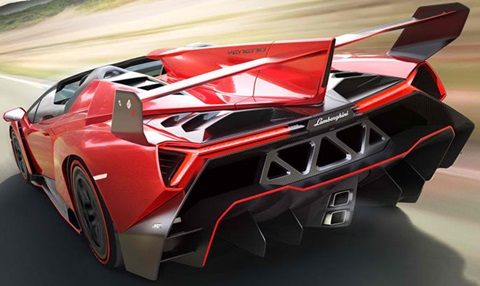 Exterior
At the front, the roadster features large aerodynamic wings complemented by Y-shaped angular headlamps, huge channels and large fenders. It also features four exhaust pipes that are divided by a splitter at the rear.
It has large vents to keep its powerful engine cool and an adjustable rear wing that provides sufficient down force. All of the Veneno Roadster's exterior parts are made from carbon fiber.
Interior
Just like the body, the interior of the Veneno Roadster used a lot of carbon-fiber elements. The driver and passenger will be able to clearly see the carbon-fiber monocoque around the central sills and tunnel.
The car has been equipped with lightweight bucket seats made from Forged Composite material. In order to shave of a little more weight, part of the headliner and seats are made from Carbon.