The latest offering from Lamborghini has been announced, the 2014 Gallardo LP570-4 Squadra Corse. The Squadra Corse brings the spirit of motor racing on to the road.
This is the most advance model in the Gallardo line-up and draws its inspiration from the Gallardo 'Super Trofeo', the successful racing car developed by Lamborghini's racing division.
Could the Squadra Corse be an image of things to come after the Gallardo series?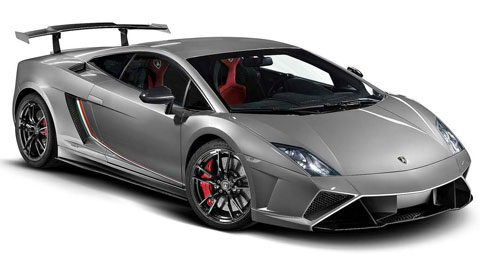 Specifications
General Info

| | |
| --- | --- |
| Vehicle Type: Coupe | Est. Market Price: NA |
| Fuel Tank Capacity: 23.8 gals (90 L) | MPG: NA |
Dimensions

| | |
| --- | --- |
| Length: 172.7 in. (438.7 cm) | Wheelbase: 100.8 in. (256 cm) |
| Height: 45.8 in. (116.5 cm) | Width: 74.8 in. (190 cm) |
| Luggage Capacity: NA | Maximum Seating: 2 |
Performance

| | |
| --- | --- |
| Engine: V10 DOHC | Displacement: 5204 cc |
| Horsepower: 570 HP | Max RPM: 8000 rpm |
| Torque: 397 lb-ft @ 6500 rpm | Transmission: 6-Speed e-gear |
| 0-62 mph: 3.4 seconds | Top Speed: 199 mph (320 km/h) |
Engine & Performance
Under the hood, the Squadra Corse sports the same V10 engine that serves the Super Trofeo race car. The engine generates a max power of 570 hp at 8000 rpm.
The engine is mated with a robotized e-gear 6-speed transmission system. Thanks to the amazing power to weight ratio, the car has stunning performance specs.
The Squadra Corse does 0-62 mph in just 3.4 sec and touches 124 mph mark in 10.4 sec. The car has a top-speed of 199 mph. The carbon-ceramic brakes in the car ensure unmatched braking performance, making it safer at high speeds.
Exterior & Interior
The car builds upon the familiar and still very futuristic Gallardo design language. As this car imbibes the spirit of race car, there are some elements of the Super Trofeo in it. This includes a huge rear wing, developed from carbon fiber material, to ensure optimal downforce.
It also gets a removable hood with quick release system, again built from carbon fiber. Thanks to lightweight construction using Carbon Fiber and Aluminum, the car weighs 1340 Kgs only, 70 Kgs lighter than the previous Gallardo, giving it a superb power to weight ratio of 2.35 Kg/hp.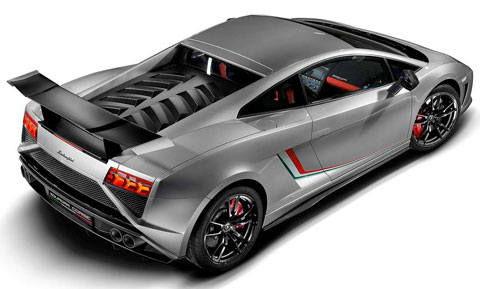 The new Gallardo is highlighted by a decal paint strip on the flanks, painted in white, green and red, giving it the colors of the Italian flag. Squadra Corse would be available in four color options – Yellow (Giallo Midas), Grey (Grigio Thalasso), White (Bianco Monocerus) and Red (Rosso Mars).
The new Gallardo LP570-4 Squadra Corse will be showcased in the Frankfurt Motor Show later this year (September 2013). Expect this fast beauty to make some headlines and catch lot of eye balls at its world premier.