In a press release from by Mansory Tuning, a new custom version of the Aventador has been assembled.
The 2013 Mansory Lamborghini Aventador Carbonado brings several improvements meant to reduce weight, tweak the exterior, resulting in improved performance.
The Swiss company used their custom carbon fiber weave for the body as a world first.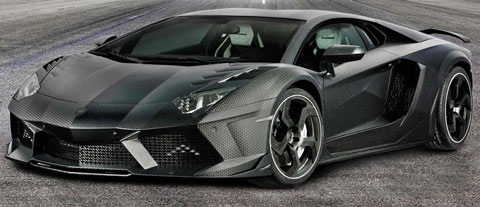 Specifications
General Info

| | |
| --- | --- |
| Vehicle Type: Super Sport Coupe | Est. Market Price: NA |
| Fuel Tank Capacity: 23.8 gals (90 L) | MPG: NA |
Dimensions*

| | |
| --- | --- |
| Length: 188.2 in. (478 cm) | Wheelbase: 106.3 in. (270 cm) |
| Height: 44.7 in. (113.6 cm) | Width: 79.9 in. (203 cm) |
| Curb Weight: NA | Maximum Seating: 2 |
Performance

| | |
| --- | --- |
| Engine: V12 Twin Turbo | Displacement: 6.5 Liter |
| Horsepower: 1250 HP | Max RPM: NA |
| Torque: 664 lb-ft | Transmission: 7-Speed Auto-Manual |
| 0-60 mph: 2.6 seconds | Top Speed: 236 mph (380 km/h) |
* 2013 Lamborghini Aventador LP700-4 base specs
Engine
The standard version of the car has a total output of 700 horsepower. Mansory reworked the 6.5 liter engine replacing most of the parts with ultra-durable material.
Paired with a new twin turbo system, the car is capable generating 1250 horsepower with its V12 configuration.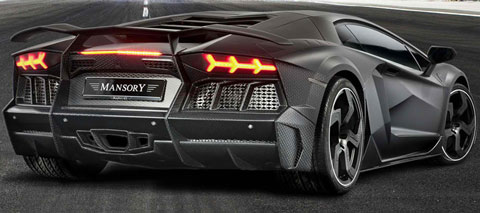 Performance
Even if no work has been done on the suspension and transmission, the new Aventador presented by Mansory gives you improved driving and handling feel.
Because of its reworked body, the aerodynamics and airflow have been improved. This tweak is also complemented by the reduced body weight due to the carbon fiber elements.
Exterior
The front skirt has been redesigned for improved air intake and ventilation at the front near the radiator. Looking at the car from the front, the Lamborghini had its sides extended by 40 millimeters near the front and 50 millimeters to the rear which has been paired with new side skirts.
The supercar now looks wider than the standard model. Most of the exterior parts that have been replaced are now made of carbon fiber.
Interior
The Mansory version of the Aventador has an all leather interior with sports seats. The color theme are in shades of black with white elements on the seats, steering wheel, pedals and doors.
Also, a white trim line now crosses the dashboard from one side to the other. Carbon elements have been added on the doors and honeycomb-like textures have been used on the seats.
Mansory managed to take the standard version of the Aventador and improve on it. With carbon fiber upgrades, an additional 550 horsepower, and custom interior, the 2013 Mansory Lamborghini Aventador Carbonado has become an even more intimidating supercar.