Lamborghini unveiled a new design for their most successful supercar, the Gallardo, at the Paris Motor show Automobil in 2012.
The new look is even more extreme and much more aggressive; the Gallardo LP 570-4 Edizione Tecnica is a combination of all the best bits from the Gallardo line. The LP 570-4 follows the LP 560-4 which is just as potent as all other Lambo's.
With the focus on high performance, a purist look and a lightweight design, the Superleggera and the Spyder Performante is the pinnacle of Lamborghini's Gallardo family. With the Edizione Tecnica enhancements, these cars are something that Lamborghini can remain truly proud of.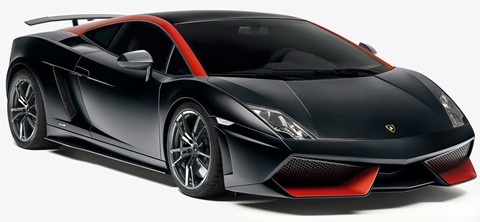 Specifications
General Info

| | |
| --- | --- |
| Vehicle Type: Super Sport Coupe | Est. Market Price: NA |
| Fuel Tank Capacity: 23.8 gallons (90L) | MPG: 13 city / 20 hwy |
Dimensions

| | |
| --- | --- |
| Length: 172.7 in. (438.6 cm) | Wheelbase: 100.7 in. (256 cm) |
| Height: 45.8 in. (116.5 cm) | Width: 74.8 in. (190 cm) |
| Curb Weight: 2954 lbs (1340 kg) | Ground Clearance: NA |
| Luggage Capacity: NA | Maximum Seating: 2 |
Performance

| | |
| --- | --- |
| Engine: V10 DOHC | Displacement: 5204 cc |
| Horsepower: 570 HP | Max RPM: 8000 rpm |
| Torque: 397 lb-ft @ 6500 rpm | Transmission: 6-Speed Manual |
| 0-60 mph: 3.4 seconds | Top Speed: 202 mph (325 km/h) |
Improvements
Gallardo models benefit from a myriad of minor improvements such as a fixed high rear wing, carbon-ceramic brake technology and a higher level of equipment. Combined with a new lower weight, durability and fade resistance, the Edizione Tecnica re-establishes the Gallardo supercars as some of the best in the super car segment.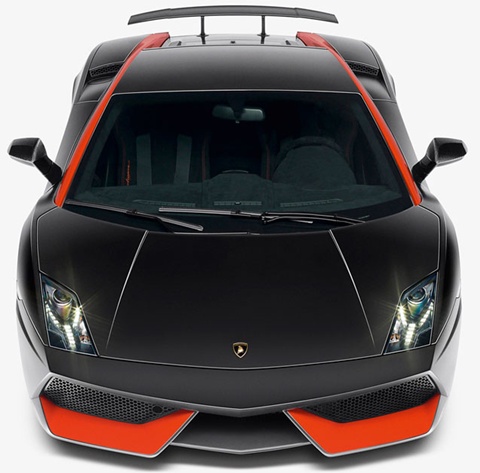 Color Combinations
The Edizione Tecnica comes with 3 (optional) exclusive color combinations that enhances the Gallardo's new look. The front air intakes and roof arch are painted in a contrast color to further enhance the aggressive and powerful nature of the LP570-4.
Available contrast combinations are: matte black body with orange pillars/intakes, matt white body and orange pillars/intakes and orange body with matt black pillars/intakes. Additionally, each of the 6 enhanced Gallardo models can be further customized using the Ad Persona program.
Design Enhancements
The Edizione Tecnica is an extremely striking Lamborghini and not just because of the new contrasting paint job. The nose of this newly redesigned Gallardo model is extremely pointed, the air intakes are larger and the aerodynamic spoiler on the front makes this car sleeker yet more aggressive looking.
Simple yet aesthetically pleasing enhancements are also made to the back end of the Lamborghini's oldest super car. The aerodynamic air diffuser frames the clearly visible exhausts and the whole car emanates style and a sophisticated design that appears to be directly inspired by championship racing cars.