The 2011 KTM X-Bow R is a radically designed car created by the Austrian motorcycle company KTM. With performance that can only be described as spectacular, it captured the fancy of the automotive world. With top of the line X-Bow R, KTM is claiming that this car would be the new benchmark for supercars.
The X-Bow R uses carbon fiber to build its monocoque chassis as well as the body. This allows it to be one of the lightest cars in the world, with only the Caterham CSR and the Lotus 2-11 being its closest rivals when it comes to weight. The underbody as well as a rear diffuser further improves aerodynamics.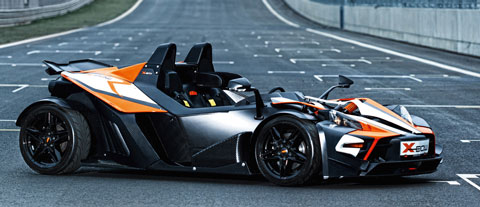 In addition, the 2011 KTM X-Bow R is the most powerful X-Bow yet. A 2.0 turbocharged FSI engine supplied by Audi, the same engine used in the S3, is used to power this car. With an output of 300 horsepower, being equipped in such a lightweight frame allows for some amazing performance numbers. It can go from zero to 100 kph in less than 4 seconds, and from zero to 100 mph in less than 9 seconds.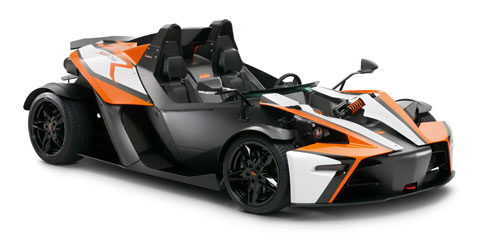 Don't be deceived by the strange shape of this car. This is a legitimate supercar that can take on exotics any given day. And don't mistake it as a track-only device. It's street legal too.
Specifications

| | |
| --- | --- |
| Vehicle Type: SuperCar | Base Price: $88,000.00 |
| Engine: 2.0-liter TFSI inline-4 | Horsepower: 240 hp |
| Max RPM: 5500 rpm | Torque: 310 lb-ft @ 2000-5000 rpm |
| Displacement: 2000 cc | Aspiration: Turbo |
| 0-60 mph: 3.2 seconds | Maximum Speed: 168 mph (270 kmh) |