Staying true to the awe-inspiring design of the original 2013 Project 7 Concept, the limited edition 2015 Jaguar F-Type Project 7 captures the iconic looks and ultra-sophisticated profile of Jaguar's Le Mans-winning D-Type race cars and it is optimized for both performance and luxury.
Its name pays homage to Jaguar's seven historic Le Mans race triumphs. A landmark in Jaguar's celebrated history and the epitome of the British manufacturer's revered performance sports car lineup.
The limited-edition is bound to be the most powerful and the fastest production Jaguar ever built.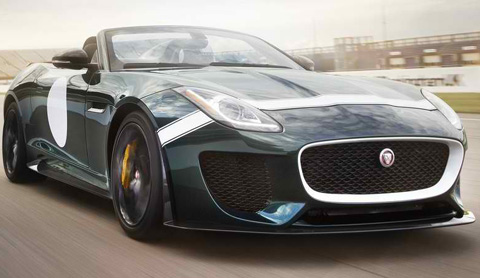 Specifications
General Info

| | |
| --- | --- |
| Vehicle Type: Convertible | Base Price: NA |
| Fuel Tank Capacity: 15.5 US gals(70L) | MPG: 18 city/ 34 hw |
Performance

| | |
| --- | --- |
| Engine:Supercharged V8 | Displacement:5.0 Liter |
| Horsepower:569 HP | Max RPM:NA |
| Torque:503 lb-ft | Transmission:8-Speed Quickshift |
| 0-60 mph:3.8 seconds | Maximum Speed:186 mph (300 km/h) |
The car incorporates cutting-edge technologies such as Adaptive Dynamics. The production of the F-type Project 7 is limited to only 250 units, making the F-Type Project 7 one of the rarest Jaguars ever produced. This ultra-modern and highly-anticipated super car goes into production in early 2015 and orders can be completed only through Jaguar dealers.
Engine & Performance
The F-Type Project 7 is propelled by a re-engineered 5.0 liter supercharged V8 engine that delivers an unprecedented 569 horsepower (575PS) and a peak torque of 503 lbs ft (680 Nm).
This upgraded engine accelerates from 0 to 60 mph in just 3.8 seconds (0-100 km/h in 3.9 seconds). The top speed of the Project 7 is 186 mph (300 km/h).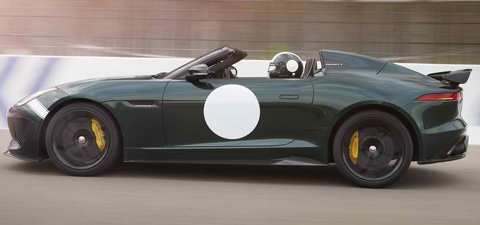 Exterior
The sleek and athletic exterior of the 2015 F-Type Project 7 features significant aerodynamic updates including an Aero Haunch behind the driver's head. This improves the overall aerodynamic efficiency of the car. A manually controlled Active Sports Exhaust allows exhaust gases to exit even more directly for a more dramatic, D-Type-inspired roar.
The body is made from 100% aluminum, that is reminiscent of the D-Type race car and creates a tremendously stable platform from which the performance-tuned aluminum suspension optimally controls the car.
The paintwork will be available in five select color options: Glacier White Metallic, Ultimate Black Metallic, British Racing Green Metallic, Caldera Red Metallic and Ultra Blue Metallic. Grey or white graphics are available as an additional option.
Durable carbon fiber is a striking styling element, featured throughout the F-Type Project 7, from the bonnet vents to the wing mirrors and veneers.
Interior
The one-of-a-kind luxury interior exudes distinguished refinement with the finest Jet Quilted leather and Cirrus stitching that highlight the exquisite materials and classic textures of Jaguar 's revered historic cars.
Designed with the modern driver in mind, the cockpit provides a distinctively ergonomic space with strategic placing of controls, dials and storage space.
The lightweight, race-inspired Sabelt Seat allows more confident handling and combined with the lowered windscreen, even a sharper profile. The Sabelt Seat encompasses mounting points for a 4-point harness, available as an accessory.