As "Red Bull" sponsors Infiniti, the collaboration totally blurs the line between luxury and racing as the just unveiled 2014 Infiniti Q 5 Eau-Rouge Concept shows. This new concept was revealed at Detroit Motor Show 2014.
This car is arguably one of the most attractive vehicles to enter the market as Infiniti attempts to attract a more youthful set of customers.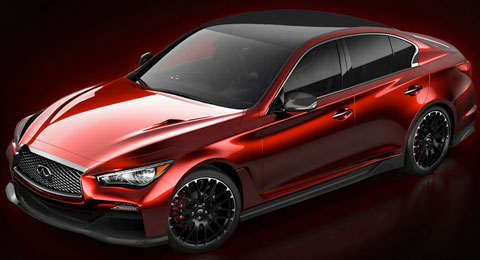 Engine
The complete details of the engine have not yet been revealed. However, it is expected that the engine will be heavily revised and be an upgraded version of the twin-turbocharged 3.7 liter V6 engine which is currently on the Q50.
According to Eau Rouge specification, the power-plant may deliver up to 500 hp with a torque of 600 lb-ft.
Exterior
The front face of this concept has an aggressive appearance with large air intakes and carbon fiber splitter. It has a carbon fiber roof, door mirrors, and handsome side sills.
The rear is imposing and rather wide. The engineers have promised the infusion of carbon fiber rear-splitter, an integrated rear spoiler, and a dual exhaust system. This vehicle has actually been finished in 'Rouge' (red) and is beautifully contrasted with the carbon parts and the lightweight 21- inch wheels. The wheels are finished in black and hide the red Brembo brakes.



Interior
The inside receives a high-performance treatment with a sure-grip steering wheel coupled with formula one-style paddle-shifters. There are red-infused carbon accents lining the doors and the center console.
This color scheme matches the outside. The steering wheel features custom made suede-like material in black and red to contrast the stitching and aluminum accents. There are also two magnesium alloy shift-paddles for easy access mounted just behind the wheel.
Most of the car's trim is actually matched with the body to complement the carbon weave design. In addition, rouge, black and chrome accents adorn the cabin.