The 2013 Infiniti Q30 Concept will soon be making its long awaited debut at the 65th Frankfurt Motor show. This is the largest motor show in the world.
The buzz surrounding this car has not subsided. The vehicle maintains a revolutionary contemporary design and the performance standards are incredibly impressive.
The attention the Q30 Concept is expected to received may be well deserved.
Exterior
A great deal of thought and craftsmanship went into creating the exterior. The fusion of three body styles contributes to its amazing look.
It is a hybrid of a coup, hatchback, and crossover contribute to the unique look of the Q30.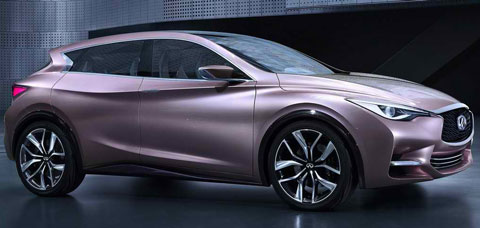 The end result is a stylish design making it one of the more sporty looking cars with unique characteristics.
The peaking roofline adds to the look of the car while also contributing to more space in the inside.
Engine
No details have been provided regarding the engine by Infiniti. It may remain a mystery until its eventual reveal at Frankfurt.
This model is intended to be an improvement on the Q50, which boasts a 3.5L V6 engine, providing 302 horsepower and 258 lb ft of torque helped by a 7-speed automatic transmission.
The Q30 is expected to possess a more powerful and better performing engine.
While many details about this Concept from Infiniti have been kept from the public, the fact the vehicle is targeted for the younger set is no secret.
The 2013 Infiniti Q30 Concept seeks to draw from the customer base of its competition.