The 2012 Infiniti Emerg-E Concept is this company's attempt to reach an entirely new level. The vehicle itself is one of the highest technologically advanced prototypes ever conceived by a manufacturer.
Performance
Right off the bat you notice the Emerg-E is powered with twin electric motors that produce 402 HP and a fast 0-60 in only 4 seconds and 0 to 130 MPH in less than 30 seconds.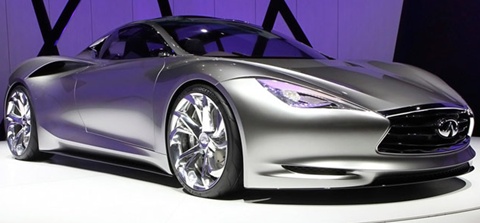 The idea behind this conceptual speedster is Infiniti's desire to produce low carbon high speed cars that will gain them access to a new market.
The vehicle is equipped with a 3 Cylinder combustion engine, Lithium Ion battery and four invertors in an extremely compact area. The vehicle itself is a mere 175 inches with two racing style buckets for the driver and passenger.
Interior & Exterior
The interior is almost space age with compact individual areas and a wrap around dash surrounding the driver with the impression they are in a cockpit. The body itself appears to be futuristic in design with extremely mean contours and lines that are only seen in science fiction.
The grill is large and reminiscent of a monstrous mouth capable of devouring anything in its path. The beauty of the Emerg-E is that you would never guess it is an electric vehicle. It looks exactly like a race car that would not be friendly to the environment yet the opposite is true.
Green Friendly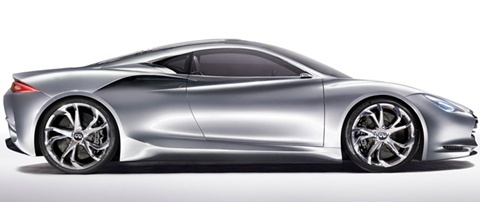 The CO2 output is just over 50 g/km when in dual use of the electric and combustion engines, making this a huge leap forward for Infiniti and others wishing to design electric sports cars that deliver power and phenomenal performance.
This extremely light vehicle will become a favorite when it reaches the production stage for those who can afford it. The 2012 Infiniti Emerg-E Concept car could possibly be the foundation for a new direction in automotive technology.
Specifications
General Info

| | |
| --- | --- |
| Vehicle Type: Electric Sports Car | Base Price: NA |
Performance

| | |
| --- | --- |
| Engine: Twin Electric Motors | Horsepower: 402 HP |
| 0-60 mph: 4.0 seconds | 0-130 mph: 30 seconds |