The 2011 Infiniti QX is a full-sized SUV that gives its driver and passengers a true 5-star travel experience. It comes in two models: the QX56 2WD and the QX 56 4WD.
The idea behind the concept of the Infiniti QX is to catch and captivate the viewer's attention. One look and you would know that this SUV means business. It can seat eight adults comfortably with enough room for their luggage. Riding in this vehicle is like flying first class or staying at a five-star hotel's best suite. The interior is fully loaded with features, like the Infiniti Hard Drive Navigation System, a 13-speaker audio system, a DVD player with dual 7-inch LCD monitors, and leather seats. The entertainment system has a USB drive and an 8-inch color touch-screen display.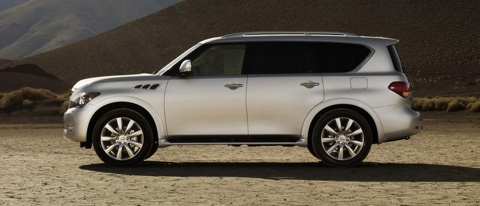 Let's not forget the power of the Infiniti QX. The 5.6 V8 engine is combined with Infiniti's Variable Valve Event & Lift and Direct Injection Gasoline. The 7-speed automatic transmission increases horsepower by 25% and fuel economy by 10%. A Hydraulic Body Motion Control system is made available for both models – a first for Infiniti. This system improves stability so there is less body lean when turning, so the ride is much smoother.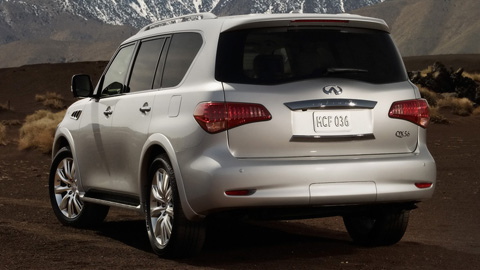 Specifications
– Price: $56,700 for the 2WD; $59,800 for the 4WD
– Engine: 5.8 liter V8
– Horsepower: 400 hp