The 2013 Icona Vulcano is a "Supercar". What else would you expect from an Italian auto designer based in Shanghai? It even resembles a smaller version of the Batmobile.
To say this vehicle is sexy would be a vast understatement.
Two versions, street and racing will be offered when this vehicle goes into production. The powertrain comes from the mind of renowned technical guru, Claudio Lombardi, of Ferrari fame.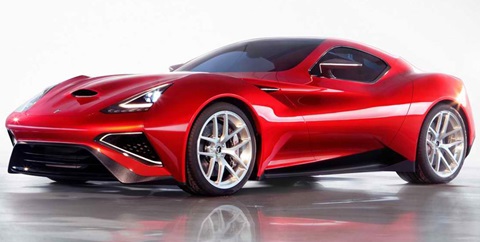 Specifications
General Info

| | |
| --- | --- |
| Vehicle Type: Coupe | Base Price: NA |
| Fuel Tank Capacity: NA | MPG: NA |
Dimensions

| | |
| --- | --- |
| Length: 175.2 in. (445 cm) | Wheel Base: 106.2 in. (269.8 cm) |
| Width: 76.4 in. (194 cm) | Curb Weight: 3516 lbs (1595 kg) |
Performance*

| | |
| --- | --- |
| Engine: V12 48 Valve DOHC | Displacement: 5998 cc |
| Horsepower: 790 HP | Max RPM: 8300 RPM |
| Torque: 481 lb-ft @ 5500 rpm | Transmission: 6-Speed Automatic |
| Electric Motor Horsepower: 160 HP@ 3000-10000 rpm | Electric Motor Torque: 148 lb-ft @ 0-3000 rpm |
| 0-60 mph: 2.9 seconds | Maximum Speed: 217.5 mph (350 km/h) |
* H Turismo Trim
Engine & Performance
As mentioned earlier this sports car will be offered in two modes, street and racing. Let's take a look at the street legal version. This model contains a front mounted, rear wheel drive, V12 capable of generating up to an incredible 950 HP with the help of an electric motor.
It can accelerate from 0-62 MPH in just under 2 seconds with a top speed of 217 MPH! It is paired with a 6 speed automatic transmission.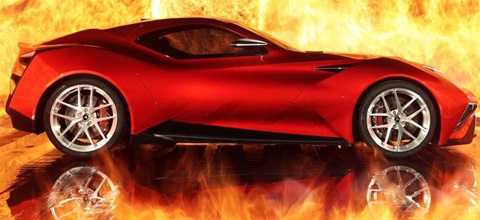 Exterior
The view from above makes the Vulcano appear more aerodynamic than ground worthy. This beast looks like it is ready to take off from a runway. The Vulcano's nose is pointed in the traditional supercar manner. The air intakes may remind you of Lamborghini, which is a compliment in itself.
The triangular design of the headlamps and curve of the fenders accentuates this cars flair. Viewed from the side, the first thing you may notice are the functional chrome heat extractors embedded in the front fenders. The thin side mirrors look like mini wings affording just enough of a view behind you as you pass everyone else.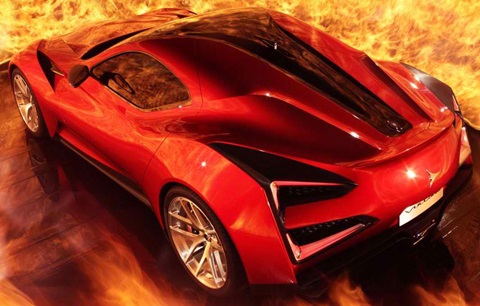 The roofline may remind you of the Chevy's Corvette Stingray. On the rear, you will find the unique design of the L-shaped taillights for which there is no comparison to anything on the road today.
Another unique element is its linear v-shaped rear window. The integrated trapezoidal tailpipe is sure to hum when this car makes its first move.
Interior
The Icona Vulcano have 2 seats with an extended dash and a racing style steering wheel. The wraparound instrumentation is best described as something out of "Star Wars".
The seats are reminiscent of those found in today's race cars that go with its two tone trim, matching the steering wheel and door panels.