Hyundai showcased their SUV of the future, the compact 2014 Intrado Concept at this year's Geneva Motor Show.
It is the Japanese automakers first time utilizing "Fluidic Sculpture 2.0", a design language created in Europe by Peter Schreyer.
If you are wondering about the word 'Intrado,' it is the name of the underside of an airplane's wing that allows the lift necessary for it to fly.
The description is in line with the vehicle's connection to the world of aviation made by similar super lightweight materials.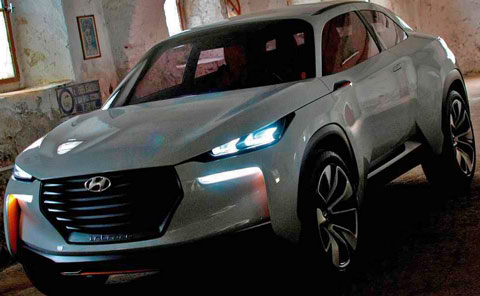 Motor & Performance
The Intrado Concept will be powered by an improved hydrogen fuel cell already in place as the Hyundai ix35 Fuel Cell, via a Li-ion 36kWh battery.
This allows for a driving range of up to 372 miles. The emissions of this crossover are nothing more than H2O.
It is expected to go from 0-60 mph in 12 seconds with a top speed of 100 mph.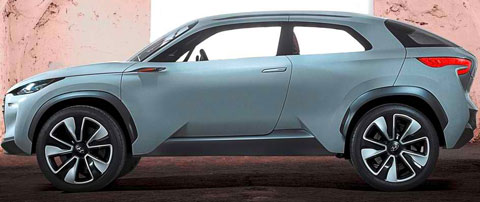 Exterior
To state that the exterior of the Intrado Concept is audacious would be an understatement. Imposing may be a better way to describe it.
When driving in the evening, it will grab your attention with its tall stance and slit-like LED headlights on either side of the grille, which features horizontal bars reminiscent of the 2015 Genesis sedan.
LED running lights are used on the front façade above large vertical air scoops.
The profile view presents an ornamental, undulating edging around the fenders which creases into the rocker panel and 2 doors.
The rear view has an exaggerated tailgate and the LED tail lights appear in the form of two sharks heading for a collision.
Interior
The boldness of the Intrado does not end on the outside. The dashboard is a bright orange which actually complements the lighter gray hue exterior paint.
It comes with flat bottomed steering wheel and the shifter appears to merge into a bridge connecting the center console to the dash, just above the instrument cluster and infotainment display.