Honda revealed the 2014 Honda Civic Type R concept at the Geneva Motor Show.
The car showcases the design language of the eagerly anticipated production version in 2015.
The sporty and aerodynamic design reflects performance credentials expected out from Honda. The design team has called this car as the "racing car for the roads".
It has a distinctive character and ready to perform.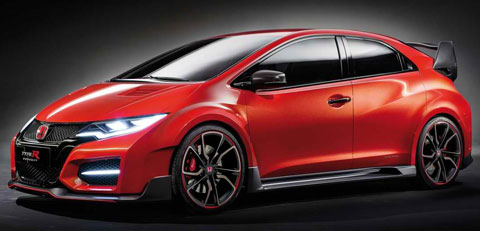 Engine & Performance
The Type R is expected to feature a turbocharged 2.0 liter four cylinder engine that produces a whopping 280 horsepower.
It comes with Honda's VTEC variable valve timing and has been paired with a six speed manual gearbox.
Exterior
The styling of the Civic Type R is linked to performance. Many of the features are not just for cosmetics sake, but they play a functional role in enhancing performance of the car. The design team has worked extensively to reduce the drag and achieve the optimum airflow.
Also, a conscious effort has been made to provide ample down-force to enable high speed performance. The front spoiler has been designed to add down force and the cut out shape of the bumper at the front helps in reducing drag.
The headlamps come with a new design with integrated daytime LED lights. The double rear wing has been designed keeping in mind the aerodynamics of the car. The low set design of 20-inch wheels goes well with the sportiness of the car.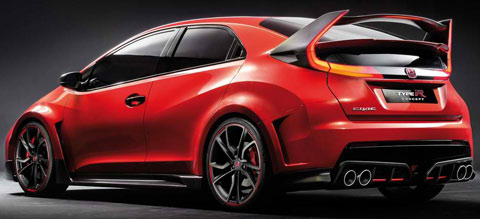 Interior
The new Type R concept features sporty interiors, along with the use of high quality materials. As a concept, expect the production version to feature a more refined and functional interior. The space inside more than sufficient.
The 2014 Honda Civic Type R concept was built to meet expectations, the production model is not expected until 2015.
The concept is close to the production version and few changes will be seen when it goes into production.