The 2013 Honda FCEV Concept was showcased at the Los Angeles Motor Show last November. This is an indication of the styling and design language that Honda intends to adopt for its new fuel cell line as promised for 2015.
The FCEV concept has improved upon the design, efficiency, power, and passenger space, over the FCX Clarity. The new concept generates more power from its fuel-cells, and boasts of a range of more than 300 miles.
While the electric cars can take hours to recharge, the Honda FCEV concept's hydrogen tanks can be refueled in around three minutes.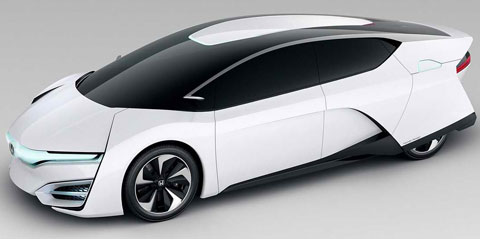 Engine
The FCEV concept produces more than 100 kW from its fuel cell stack, which pegs the power density at 3kW per liter, an increase of 60% over the FCX Clarity. This allows Honda to reduce the fuel cell stack size by 33% as compared to FCX Clarity.
By charging the Li-Ion batteries, the FCEV can deliver a very respectable range of more than 300 miles on a single recharge.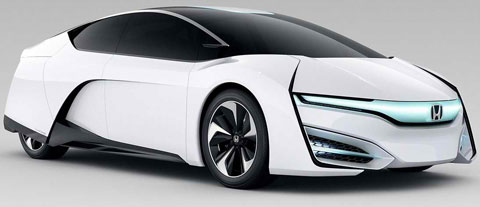 Honda has shown its intention to bring out this new fuel cell powered concept to the market by 2015. Till now Honda has had virtually no competition in the fuel cell vehicle market and has been industry leader in this category.
However, Toyota has indicated that it intends to produce fuel cell based vehicles based on its FCV concept that it showcased at 2013 Tokyo Motor Show. Honda has still not indicated any definite plans or intended pricing in the production of the FCEV concept.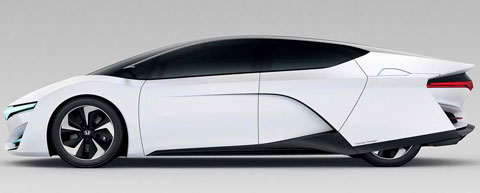 Design
The new Honda FCEV showcases modern styling and futuristic design, which builds upon the Honda's H design styling language. The FCEV does pick up design cues from the FCX, such as the intended shoulder line and the couple like profile.
The aerodynamic design of FCEV allows it to deliver impressive driving performance while still maintaining better efficiency. The FCEV is not just about looks. The design is functional as well with ample passenger space for five.