The 2013 Civic Tourer Concept by Honda is a cousin to the Civic hatchback, but with a sportier body and an especially sleek, classy look. Honda follow their tradition of creating wagon-like vehicles that offer a more elegant and understated style than other cars.
The Civic Tourer Concept continues the practice and is visually striking but still functional enough for everyday use.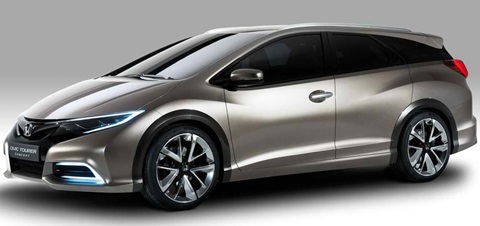 Engine
Earth friendly engine is the new offering from Honda in the Tourer Concept, a 1.6 Liter i-DTEC engine which will eventually find its way into the CR-V class of Honda vehicles. It only delivers 119 g/km of CO2 emissions and is touted as possibly one of the "cleanest and most efficient SUVs in the market."
Visually Appealing
The Honda Civic Tourer Concept has been given a distinct profile that sits low, while being wide enough to cling to the road. Safety is a big concern for those with families, so the Civic Tourer Concept has been designed with this in mind. The windows are large enough to allow a full view of traffic, but maintain the visual appeal of the rest of the car. Of course, having a nice view is also great for keeping children amused during longer drives.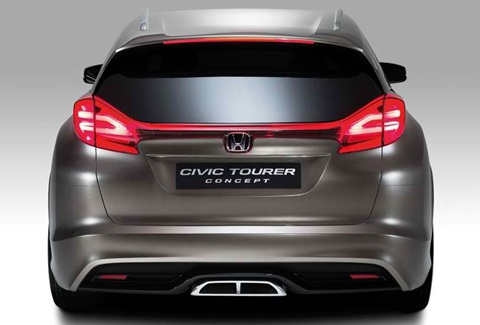 The particularly long roof and spacious cargo area will allow a group of people to share the interior, even for lengthy trips, without feeling as though they are being crowded. There is a large overhang at the rear than many hatchbacks have, and will of course allow for more space inside the vehicle; this is great news for anyone who needs to do some serious packing, or those who just want to be able to utilize their vehicle for as many purposes as possible.
Family Friendly
While this vehicle is ideal for families, it still possesses an elegant, yet still masculine, charm that some similar vehicles are sorely lacking. With a prominent front end, a series of streamlined curves, and an overall modern feel, and you have Honda's Tourer Concept. There is no need to compromise between individual style and family-friendly practicality any more.
Whether looking for a car that is built to support a family or just something that is both stylish and practical – the Honda Civic Tourer Concept is worth your consideration. Look out for it sometime in the autumn of 2013.