Honda has made an interesting marketing campaign for the 2012 Honda Odyssey by commissioning Judas Priest to write a song for them. It was purposefully done because the new Honda Odyssey has a brand new purpose: to serve as a vehicle for young families.
So there you have it; the rifts that can make you bang your head, the entertainment features, Bluetooth connectivity, 2GB storage capacity, a USB interface, HDMI port, and the i-MID information display.
It is easy to understand that the minivan is targeted for a younger market. But will the Honda Odyssey pass the test among more experienced car owners?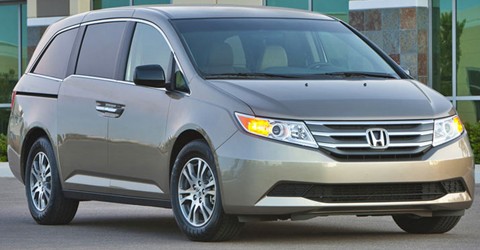 Specifications
General Info

| | |
| --- | --- |
| Vehicle Type: Minivan | Base Price: $28,375.00 |
| Fuel Tank Capacity: 21 gallons (79.4 liters) | MPG: 18 city / 27 hwy |
Dimensions

| | |
| --- | --- |
| Length: 202.9 in. (515.3 cm) | Wheel Base: 118.1 in. (300 cm) |
| Height: 68.4 in. (173.7 cm) | Width: 79.2 in. (201.2 cm) |
| Curb Weight: 4337 lbs (1967 kg) | Ground Clearance: NA |
| Luggage Capacity: 38.4 cu ft(behind 3rd Row) | Maximum Seating: 7 people |
Performance

| | |
| --- | --- |
| Engine: 3.5L V6 24-Valve SOHC i-VTEC® | Compression Ratio: 10.5: 1 |
| Horsepower: 248 HP | Max RPM: 5700 RPM |
| Torque: 250 lb-ft @ 4800 rpm | Transmission: 5-Speed Automatic |
| Max Towing Capacity: 3500 lbs (1588 kgs) | Maximum Speed: NA |
Available Trims & Engine

| | |
| --- | --- |
| Option:Odyssey EX | MSRP: $31,625; MPG: 18 city / 27 hwy |
| Option:Odyssey EX-L | MSRP: $35,025; MPG: 18 city / 27 hwy |
| Option:Odyssey Touring | MSRP: $41,330; MPG: 19 city / 28 hwy |
| Option:Odyssey Touring Elite | MSRP: $43,825; MPG: 19 city / 28 hwy |
| Option:Trim | MSRP: $26145; MPG: xx city / xx hwy |
Engine & Performance
The 2012 Odyssey has a 24 valve, 3.5 liter, V6 engine that brings 248 horsepower and 245 lbs/feet of torque on regular unleaded fuel. The engine for this new minivan is identical to its forerunner's. But because innovation is the trend in the car market, Honda made some updates.
To reduce friction, Honda used honed aluminum engine blocks, a perfect match for OW-20 engine oils. There is also a new intake manifold that has two stages to enhance breathing. Last year's engine model delivers 244 horsepower and 250 lbs/feet of torque, which means that the new minivan packs additional power and more torque.
The six cylinder engine is capable of Variable Cylinder Management (VCM). Honda has set this standard on all their trim level vehicles starting 2011. Basically, the engine starts with all cylinders working. During certain driving situations, several of the cylinders are deactivated.
In low engine speeds and during moderate speed cruising, the rear row of cylinders shut down, making an effective three-cylinder power plant. Accelerating on moderate speed shuts the right cylinder of the front bank and the left cylinder of the rear bank, and thus the engine works on four cylinders.
Furthermore, the computerized VCM closes the exhaust and intake valves of the idle cylinders and therefore eliminates losses in pumping. The spark plugs are left firing, though, to keep them hot and to prevent fouling. Ultimately, the supply of fuel needed to run the engine is cut. The 2012 Honda Odyssey needs 8.5 seconds to accelerate from 0 – 60 mph. The new Honda Odyssey comes in six-speed and 5-speed automatic transmissions.
Features
Actually, there is not much to expect for the exterior of the 2012 Odyssey because not so much has changed compared to the older model. What is exciting about the new minivan is its interior. The new Odyssey features three-point seatbelts in all seating positions, automatic pre-tensioners on the seats in the front and five child seat LATCH positions.

The entry level minivan has four child seats. Honda kept the sliding door tracks low to give enough shoulder room for average sized adult, providing superior comfort. Even a 6'2″ male can comfortably lounge at the rear row where children usually seat.
Safety features are important selling factors for minivans so Honda made sure to equip the odyssey with a pack of safety features. These features are the Electronic Brake Distribution (EBD) in ABS which is integrated into all of its wheels as well as the Vehicle Stability Assist (VSA).
To protect those who are in the front seats, there are head restraints and multiple threshold, dual stage front airbags. There are also rollover sensors and three-row, side-curtain airbags to keep the passengers inside the cabin safe. The brakes work as they should, the shifting is smooth and the torque is adequate for you to cruise around the city.
Pros
Honda has put a lot of thought on comfort, safety and fuel efficiency. The new features in the dashboard will certainly entertain younger families who used to grow up with all technological innovations.
Cons
If you are the kind of driver who gets entertainment from your car's acceleration, you might shy away from the new Odyssey and choose a 4-cylinder turbocharged engine instead. But since the new minivan is designed to be fuel efficient, this is not a major drawback.
If you are conscientious about spending on fuel, comfort and safety for your family, the 2012 Honda Odyssey is a minivan worth considering.
Competition
The popularity of the minivan has produced many models that include the Odyssey, among them are the Chrysler Town & Country (MSRP $29,995; 17 city / 25 hwy), Nissan Quest S (MSRP $25,990; 19 city / 24 hwy), and the Toyota Sienna (MSRP $26,300; 18 city / 25 hwy).
Overall Rating


83 out of 100
What others say:
"The 2012 Honda Odyssey is the priciest of the minivans, but innovative seating and excellent handling set it apart from all the rest.
"Car Connection
"Sporty for a minivan. Odyssey exhibits only moderate body lean in fast turns. The electrically assisted power steering feels very light at all speeds but maintains good response. Response is a bit sharper with the Touring models' 18-inch tires."Consumer Guide
"The Odyssey tops our minivan Ratings but is not recommended because of below-average first-year reliability."MSN Auto-ConsumerReports
"Agile handling; fuel-efficient V6; quiet cabin; configurable second-row seat; top safety scores; easy-to-fold third-row seat. Pricier than some competitors; some desirable options and features only offered on upper trim levels; button-heavy dash."Edmunds
"If you need a comfortable, roomy and reliable family wagon that is also slightly cool and holds it value like gold in a bear market, the 2012 Honda Odyssey is the minivan for you."KBB