The 2012 Honda NSX Concept is a brand new, concept car unveiled at the 2012 Geneva Motor Show.
Meanwhile back in the USA, it was another NSX Concept car, the Acura, that captured attention of many people at the Detroit Auto Show.
Sporting similar, groundbreaking designs and technology across both its Acura and Honda NSX Concept models, this new supercar features a V6 mid-mounted VTEC 3.5-liter engine. Fully armed with direct-injection, a transmission system with dual-clutches and a built-in electric motor, the NSX Concept promises superior acceleration balanced with equally superior efficiency.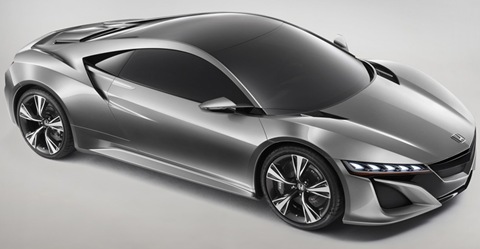 Performance & Handling
Packing in the all-new Super Handling All Wheel Drive hybrid system (SH-AWD), this new concept car looks set to make a solid statement in the area of superior handling as well. Combining a unique, electric-powered drive Unit that features bilateral torque adjustments, cornering is handled with ease via controlling the front wheels with either positive or negative torque.
While sheer raw power specs have yet to be released by Honda, rumors abound of an engine charged up to around 400 HP, which could provide a great sprint time of less than 5 seconds in 0-60 mph.
Exterior
Made from lightweight materials and dynamic styling typical of Honda, this concept car is scheduled to be released for production in three years. Honda R&D Americas, Inc. will be leading the way in Ohio and the engineering and development, though the exact facility has yet to be confirmed.

The Honda CEO Takanobu Ito was quoted as saying that the 2012 Honda NSX Concept is conceptually designed to synergize man and machine. While most other supercars would be known solely for sheer brute force, this NSX Concept combines the best of power-to-weight ratio to blend power, speed, and control into one convincingly, powerful package. Let's see how this concept actualizes in just three years' time.